Dogfish Head & Grateful Dead Settle On Final Ingredient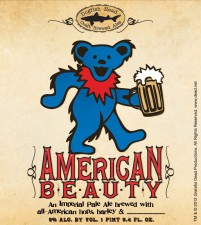 Late last year, Dogfish Head Craft Brewery & Grateful Dead, two pioneers who built their followings by connecting directly with beer lovers and music lovers, asked their supporters to help them craft a pale ale called American Beauty.
More than 1,500 loyal fans of the brewery and band suggested an ingredient idea and the Dead-inspired story behind it. There was no shortage of great suggestions – the red grenadine from "Brown-Eyed Women," rose hips reminiscent of the motif painted on the Rosemont water tower, jalapenos like the ones burning in one Dead Head's mouth after he first heard "Mexicali Blues" – but there was one that stood out.
The Final Ingredient
Thomas Butler remembers two things from his first Dead show.
When his dad tossed him over the fence at Oklahoma City's Zoo Amphitheatre (his old man didn't want to buy a ticket for a 9-year-old) little Thomas ran into a woman wearing only a soaking wet white sheet. It left little to his school-age imagination.
"Hey, it was a Dead show in the middle of summer and I was young," says Thomas, now 39 and living in California. "I'll never forget that."
The other thing he remembers is all the "cigarettes." He couldn't figure out why everyone was passing them around. "People here are pretty poor," his dad told him, "so they have to share."
That was life in the early '80s for Thomas and his dad, also named Thomas. When the weekend came, they went to concerts, especially if the Dead were within driving distance. When there was no show to catch, they'd brew a batch of beer in the garage of their Tulsa home.
Little did that wide-eyed boy know that 30 years later, those two grown-up worlds would collide while he was browsing dogfish.com.
On the website, Thomas saw that Dogfish and the Dead were seeking ingredient suggestions and stories to help shape their upcoming collaboration. He emailed his dad their story from that first show – the fence-hopping, the woman in the white sheet, the shared smokes – and said he was going to suggest granola as the final ingredient. Granola was the main course in millions of parking lot meals, and they both agreed it would be a sweet and toasty complement to the pale ale's all-American hops and barley.
"The components of granola – honey, toasted grains, oats and fruit – offer a lot from a beer perspective," says Thomas, a chemist by day, homebrewer by night. "The idea is to have a sessionable ale that highlights the oats and honey with a nice 'dank' hop selection."
Thomas' suggestion was one of 1,500. Teams from Dogfish and the Dead read all the stories and thought about how well the ingredients would work in a pale ale. Everything had to be kosher with federal regulators, too. (Sorry, all you folks who suggested 'magic' mushrooms.)
"We all loved Thomas' suggestion and story," says Dogfish Head Founder and President Sam Calagione. "My wife, Mariah, and I went to our first Dead show about 10 years after Thomas and his dad, and we stopped for sausage sandwiches on the way. I don't think sausages would've been a good ingredient, so let's all be thankful that Dogfish co-workers weren't eligible."
In May, Thomas is planning to join Sam and Grateful Dead audiovisual archivist David Lemieux in Rehoboth Beach, Del., to brew a test batch of American Beauty with granola. The production batch is expected to hit taps and shelves throughout Dogfish's 27-state distribution network in October 2013.
"I'm excited to brew with these guys," says Thomas. "The Dead built their own institution, their own identity. It's a family. And Dogfish culture is big, too. They're the pioneers of playing with beer."
The Rest Of The Best
Red Grenadine, Elliott, Middlesex, Vt.
The connection is the song "Brown Eyed Women." I was at Red Rocks, where the Dead broke out "Dear Mr. Fantasy," and my tour clan (aka Bagel Family) left me. We had three vehicles (including my VW Vanagon) so I thought I had a ride. I had to hitchhike to Golden Gate State Park where we were camping in the "Mountains (of The Moon), arriving in the "Early Morning (Rain)," after miles of walking ("So Many Roads") "In the Dark", coyotes howling nearby, got a ride from a trucker ("Truckin' ") en route to Utah ("Friend of the Devil"). It was the time ("Attics) of My Life."
Jalapeno, Marc, Leesburg, Va.
I heard my first live "Mexicali Blues" at a show in Illinois in 1994. After the show, I devoured a burrito loaded with jalapenos. I still remember my mouth burning, but thought it was fitting after hearing Mexicali during that show.
Rose hips, Andy, Baden, Pa.
Back in 1988, I got tickets for the last two nights of the three-night stay in Rosemont. Three of us left in my friend Mike's VW beetle. Within one hour it was dead on the side of the road. We found a trucker who was going to Chicago who said he would take all three of us all the way to Rosemont! We were so happy to see the great big water tower there that had a big red rose painted on it. We had missed the first set, but we made it to the shows!
Sassafras root, Michael, Newark, Del.
I've worked at Camp Arrowhead in Lewes, Del., for five years and it has been a major influence on me since 2000. The sense of community there compares to nowhere else I've seen. Walt LaFontaine, the director of the camp and diehard Dead Head and Dogfish Head, occasionally sails his boat, named Ripple, across Rehoboth Bay to the Rusty Rudder to enjoy a 60 Minute IPA. My fondest memory as a kid was sitting down on the docks between the dawn and dark of night making sassafras root tea and listening to songs played on a harp unstrung.
American Beauty is expected to hit taps and shelves throughout Dogfish's 27-state distribution network in October 2013. Stay tuned to www.dogfish.com for details on how to be a part of this grassroots brew.
www.dogfish.com – @dogfishbeer – facebook