Details on Braxton Brewing Kentucky Home Bottle Sale
(COVINGTON, KY) – Braxton Brewing Company will be celebrating their commonwealth roots with a 22 oz. bottle of their Mint Julep Style Beer — Kentucky Home. This is the second time the Covington-based company has brewed the beer but the first time it will be available in bottles. The Golden Ale is aged in bourbon barrels and infused with mint to create a flavor profile similar to the traditional Mint Julep.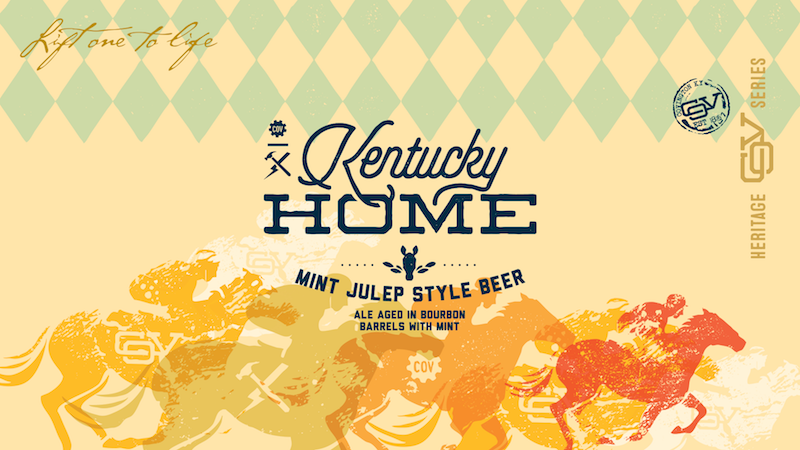 Bottles can be pre-purchased online and a limited number of bottles will be released to the public on Friday, April 22nd. The beer will be found on draft the two weeks leading up to the Kentucky Derby in the Northern Kentucky and Greater Cincinnati markets.
You can reserve your bottle(s) here.
"We felt the most exciting 2 minutes in sports needed a beer to properly celebrate," Head Brewer & Co-Founder Evan Rouse said. "This barrel aged golden ale with mint is the same favorite we released last year, and I am extremely happy with how it turned out. A nice smooth oak and bourbon characteristic with mint added makes it a great spin on the traditional Mint Julep!"
As the story for Kentucky Home reads, Braxton Brewing Co. wants to "Lift One to the traditions that make the Commonwealth uncommon."
They'll be doing just that with several events leading up to the Kentucky Derby:
Kentucky Home Bottle Release: A limited number of bottles will be made available at noon on Friday, April 22. There will be a strict two bottle per person limit while supplies last. To stay up-to-date on all event details, join the event on facebook
Build your own Derby Hat: Partnering with the entrepreneurs at Gild Collective, Braxton Brewing Co. will play host to a Build Your Own Derby Hat event on May 4th. You can learn more about the event and get your ticket here.
Braxton Brewing Derby Party: Braxton will be saving Kentucky Home kegs to go on tap on May 7th. And of course, the beer inspired by the traditional Mint Julep, will be served in the limited edition official derby glass. Dress up in your traditional derby fare and join the Brewing company on Derby Day. We'll have the derby on all 6 TV's and our 6×9-foot projector with audio. Buttercup Cakes will be there to serve some special Derby treats. As always, you can expect a few Kentucky touches to celebrate special Commonwealth traditions. Join the event here.
"Having grown up in Kentucky, the excitement around the Derby is truly infectious. We couldn't be more thrilled to spend this Derby drinking Kentucky Home out of a bottle! There's something about the tradition of watching the horses turn for home and sipping on that mint julep that inspired our team to craft the perfect beer version," said Jake Rouse, Co-Founder & CEO. "This is something special, and I can't wait for you to try it!"
It will be an exciting two weeks at Braxton Brewing Company leading up to the "most exciting two minutes in sports."
To stay up-to-date on all event details and announcements, check out the company's blog, Facebook, Twitter, and Instagram.