AleSmith Brewing Introduces Private Stock Ale, First Vintage Series Beer
(San Diego, CA) — This Friday, April 18 will mark the arrival of AleSmith Brewing Company's new Vintage Series, an annual quartet of seasonally released beers that are perfectly suited for cellaring. Built around venerable, high-alcohol staples of the San Diego-based brewery as well as brand-new strong ale offerings, the 2016 Vintage Series will kick-off with the release of AleSmith Private Stock Ale, an imperial English-style brew that is suitable for aging for up to 20 years. AleSmith has long been known for its high-gravity, cellar-able ales, and a number of those award-winning standard-bearers have found their way into the Vintage Series.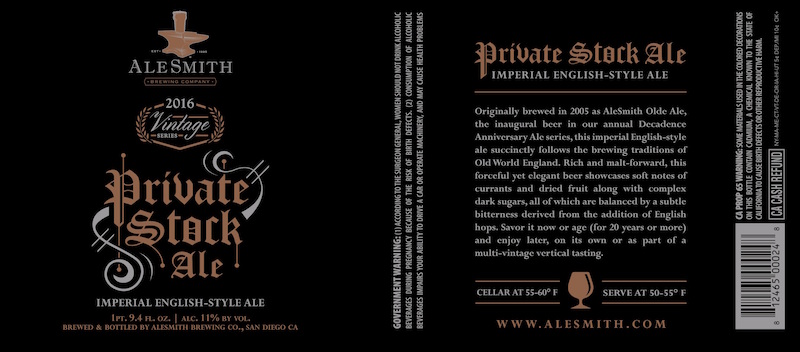 "We are very proud of our ability to brew strong beers that can be enjoyed fresh for their big flavors, aromas and presence. Though magnificent straight out of our brewery, the beers in our Vintage Series are also built to stand the test of time," says AleSmith CEO and brewmaster Peter Zien. "Each of them is ideal for laying down under proper temperatures and conditions for many years to come. Over that span, be it one year, one decade or more, they will slowly and steadily change, taking on new flavors and textures, with certain characteristics becoming amplified while others fade into the background. Cellaring is the brewing industry's next frontier and we want to help our fans to successfully enjoy the metamorphic journey some of our finest beers take when matured for extended periods of time."
Perhaps the best-suited beer for prolonged aging in the company's portfolio is AleSmith Private Stock Ale, which can be aged as many as 20 years. Originally created by Zien during his days as a homebrewer, it was first professionally produced in 2005 under the moniker AleSmith Olde Ale, and has remained a favorite among the company's brew crew and fans ever since. Initially brewed every five years, this ruby-hued English-style strong ale will now be produced once annually so that, like all of the Vintage Series beers, fans can stock up on each year's vintage and track its progress as it ages. This will also allow beer enthusiasts to enjoy Private Stock Ale in a "vertical tasting" scenario, wherein one samples multiple vintages spanning several consecutive years to taste, smell, compare and contrast each of them while gaining a better understanding and appreciation of how the beer ages over time.
Private Stock Ale will be the 2016 Vintage Series' spring offering, followed by Decadence Anniversary Ale this summer, AleSmith Wee Heavy in autumn and AleSmith Grand Cru in winter. Released in summer, the style of Decadence Anniversary Ale changes yearly, making each vintage an enduring collectable. Meanwhile, Wee Heavy (a complex, malt-driven Scotch-style ale) and Grand Cru (a multi-layered Belgian dark strong ale) will remain the same fine, accolade-garnering beers they have proven to be over the past decade-plus.
Vintage Series beers will be distributed to states and countries where AleSmith beers are sold. The beers will be packaged in metallic foil-topped 750-milliliter bottles and also offered on-draft at select bars, restaurants and hospitality venues. See below for a list of regions where Private Stock Ale will be sold.
#          #          #
QUICK FACTS
AleSmith Private Stock Ale
Style: Imperial English-style Ale / Old Ale
Stats: 11% ABV, 25 IBU (international bittering units)
Packaging: Draft & 750-milliliter bottles
Distribution: AZ, CA, CO, CT, IL, MA, MN, NC, NY, OR, TX, VA, VT, WA & Denmark
AleSmith 2016 Vintage Series
Spring: AleSmith Private Stock Ale
Summer: AleSmith Decadence Anniversary Ale
Fall: AleSmith Wee Heavy
Winter: AleSmith Grand Cru
#          #          #
ABOUT ALESMITH BREWING COMPANY: Forged in 1995, AleSmith has been recognized by consumers and critics alike as one of the world's foremost craft brewing companies behind accolades that include medals won at prestigious national and international beer competitions as well as being named Small Brewing Company of the Year at the Great American Beer Festival. AleSmith is on the verge of celebrating its 21st year in business and recently expanded, moving into a 105,500-square-foot, state-of-the-art brewery featuring a new 80-barrel brewing system that will allow the company to increase its production ten-fold. The expansion also included constructive of the largest brewery tasting room on the West Coast (25,000 square feet) with an outdoor beer garden that will soon be joined by a second-story indoor-outdoor mezzanine, private rooms and a museum dedicated to San Diego Padres legend Tony Gwynn. AleSmith's line of acclaimed beers, which includes Speedway Stout, IPA, San Diego Pale Ale .394, Nut Brown Ale and Old Numbskull Barley Wine, is distributed in 20 U.S. states and five countries. The company's social media channels include Facebook,Twitter and Instagram (@AleSmithBrewing), and its official website URL is—http://www.alesmith.com.