Debut Of Jester King Le Petit Prince Farmhouse Table Beer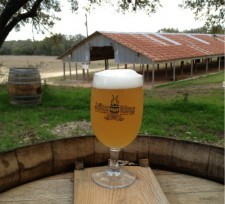 Jester King is pleased to announce the release of their latest beer – Le Petit Prince Farmhouse Table Beer. Le Petit Prince is a 2.8% ABV farmhouse table beer brewed with pilsner malt, wheat, a touch of Caramunich and acidulated malt, lots of Czech Saaz hops and farmhouse yeast. This is a beer we've been excited about for quite some time now, as we believe that it's a clear, simple expression of the delicate, delightful interplay between noble hops and farmhouse yeast.
We're also excited because it adds to our lineup of session beers. We enjoy high gravity beers with bolder, more extreme flavors, like our recent collaboration with Mikkeller, "Ale"/"Malt Liquor" in TX Geek Brunch, which is brewed with chipotle peppers and Lopi Luwak (Vietnamese civet coffee). But we find ourselves increasingly more interested in subtlety, restraint, old world flavors and techniques and careful execution. We enjoy having a beer at our brewery that we believe beautifully expresses noble hop and farmhouse yeast character that's also low in alcohol. It's our beer for working!
On the subject of working, Le Petit Prince is inspired by the low alcohol farmhouse ales historically brewed in the Wallonian region along the border of northern France and southern Belgium. These ales were brewed in the colder months when temperatures were more conducive to brewing, and then consumed as a source of both hydration and sustenance by farm workers during the warmer growing season.
Le Petit Prince will be available on draught beginning on Friday, December 2nd at select locations in Austin and on Saturday, December 3rd in our tasting room. In the coming weeks it will be available on draught at select locations throughout the State, followed by a wider release in 750ml bottles, naturally conditioned through re-fermentation in the bottle.