CraftHaus Brewery Launches Silver State in Celebration of Nevada Day
(Las Vegas)- Silver State beer launches in celebration of Nevada Day on Friday, October 27th. No other state in the nation gets to call itself the Silver State, and that's just the way we like it. It's a name that reflects Nevada's pioneering spirit which Nevadans have and forever will wear proudly. This bold, tenacious blonde ale was brewed with absolute love and sincerity in Henderson, Nevada by CraftHaus Brewery.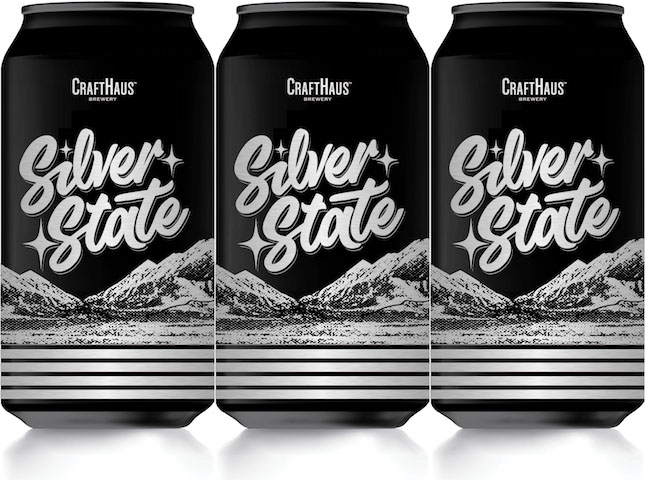 Silver State shines on its own and is reflected in the can design by head brewer Steve Brockman. Intentionally omitting the iconic cuckoo clock logo, the focus was shifted to the beer name itself. The bold image of Frenchman's Peak exudes strength, just as the state emulates. The choice to brew a blonde ale fills a need in the brewery's portfolio. The beer is a high volume, local choice for not only the forty-two million annual visitors to the Las Vegas Strip, but a symbol of pride for Nevada residents as well. "We get compared to other craft beer centric cities such as San Diego and Portland, but we will never be those cities for a reason. We need to be our own craft beer community that highlights our uniqueness and Silver State proudly does just that[PS2] ." says Co-Founder and Owner, Wyndee Forrest.
The launch kicks off at CraftHaus Brewery's taproom Friday October 27th 2pm-12am. Complimentary brewery tours, a food truck, merchandise, an eight-foot chalk board wall for leaving a message, and a social media photo contest will all coincide with the launch. Silver State will have its own website that will feature scrolling Instagram photos with the hashtag #SilverStateBrew.
Silver State is available year around in twelve-ounce, six pack cans as well as on draft. Distribution can be found in Clark County via Bonanza Beverage.
About CraftHaus Brewery
CraftHaus Brewery, LLC's foundation is based on a commitment to building a community around quality driven beer. Co-owners and founders, Wyndee and Dave Forrest lobbied to change the City of Henderson's brewpub license then went on to help lobbying on the State level to establish more craft beer friendly laws. Established September 2014, the brewery has undergone extensive expansion to keep up with the demand of Clark County, Nevada. The brewing team is led by founding brewers, Steph Cope and Steve Brockman who continuously strive to out brew themselves with every batch created. CraftHaus Brewery is located in Henderson, Nevada, where one can enjoy a pint while taking in the view of the brewery.