Craft Beer News Roundup: New Black Tuesday Variant, Dogfish Head, Avery Brewing and Epic Brewing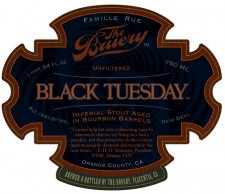 It's time once again for a Craft Beer News Roundup. In this edition, read about a new Black Tuesday variant that will make it's debut tonight, as well as news on Dogfish Head, Epic Brewing and  Avery Brewing.  Enjoy!
The Bruery – The Bruery will be releasing a new variant of Black Tuesday tonight, called S'more Tuesday.  It's Black Tuesday with chocolate, roasted marshmallow and graham cracker. We've been told Cherry Chocolate Rain will not be poured this evening, of course, we'll have to wait and see as anything is possible with regards to The Bruery's cellar goodies.
Dogfish Head – Bottles of Bitches Brew and Hellhound On My Ale will be available from the brewery Tasting Room and the Rehoboth brewpub Kiosk beginning today. Limit 2 bottles (of each style) per person. And yes, we do still have Faithfull Ale for sale in both spots (same limit).
Epic Brewing – We are releasing our first collaboration beer with DC Brau from Washington DC at Gracie's in downtown Salt Lake City. It's an Imperial Pumpkin Porter called Fermentation Without Representation. Come down, join Epic Brewmaster Kevin Crompton and be the first to try it at Gracie's 326 South West Temple in Salt Lake City on Thursday, November 3 at 6 pm.
Avery Brewing- The Annual Barrel-Aging Releases, our newest trilogy, will be complete in 2012 – Rumpkin was our first, just released this month; we will be releasing Uncle Jacob's Bourbon barrel stout this winter; and the final member of the series is yet to be announced.  The next release of Czar will feature the new updated label, which looks really cool.  Also, we're changing to Ball as our can supplier, which will increase the quality of the graphics on our cans.