Craft Beer News Roundup: Great Divide, Stone Brewing, Three Floyds and Silver City Brewery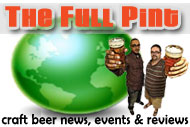 It's craft beer news roundup time. In this edition, read interesting bits on Great Divide Brewing, Stone Brewing, Three Floyds Brewing and Silver City Brewery. Enjoy!
Great Divide – Great Divide has announced a new beer to their 2012 lineup called Nomad, described as a pilsner. " Have you heard? We're expecting a baby in January… a beer baby, that is. We'll be debuting our brand new pilsner, Nomad at the turn of the new year. Keep an eye out for it in your neighborhood."
Stone Brewing – From their Facebook page – Today we're brewing a very special collaboration beer to benefit the victims of Hurricane Irene with our friends from Ninkasi Brewing & The Alchemist Pub & Brewery in Waterbury, VT. We'll keep you updated on where/when it will be available, but it's called "More Brown Than Black IPA" and it will be awesomely hoppy!
Three Floyds Brewing – New beer on tap in the pub: Hessian Smog: A traditional Hessian ESB Brewed with an eye to the "not normal." Enjoy this Revolutionary War-inspired recipe. 80 IBU 6.7%.
Silver City Brewery – "Winter Bock will carry into the middle of February, but in between now & then we have a couple of "specialty" beers to release, starting with Old Scrooge Christmas Ale. Old Scrooge will be released at Silver City Restaurant next week then will start to trickle out into the Puget Sound area in 22 oz bottles & very very limited draft."