21st Amendment and Ninkasi Release Allies Win The War!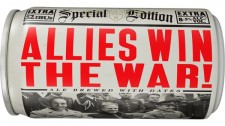 November 9, 2011 – San Francisco: In a surprising turn of events, rival superpowers have joined forces to bring a beer of might to the world. According to top-secret documents, recently unclassified, brewmasters for 21st Amendment in California and Ninkasi in Oregon began their brewing careers together many years ago. The two leaders reunited recently at a secret camp in the Sierras to devise their master plan. "We are more alike than we are different," said 21st Amendment's Shaun O'Sullivan. "We must unite in our common cause," added Ninkasi's Jamie Floyd. The resulting collaboration, an English-style Strong Ale brewed with California dates, an aggressive arsenal of all-Northwest hops and an unmistakable aroma of victory, deals a unified blow to unoriginal beers everywhere.
Behind the scenes, O'Sullivan and Floyd have been friends since they first started brewing together at Steelhead Brewery back in the 1990s. Even then, English-style strong ale was a "signature" beer for the two brewers and each won GABF medals for his own version of the style.
More than a decade later, after each had started their own breweries, the two friends-turned-rivals decided to reunite to make a collaboration brew that would bring together the best of their Strong Ale recipes with unexpected ingredients that hail from each brewer's local area. 21st Amendment brought fresh dates from its home state of California, the only place in the western Hemisphere where dates are grown. Ninkasi, of Eugene, OR, brought a new blend of Northwest hops, called Falconer's Flight. Falconer's Flight is named in honor of the late Glen Hay Falconer, a Eugene brewer and good friend of Floyd's. "He brought the hops, and I brought the dates," says O'Sullivan. "Jamie has always been slightly bitter. I'm the sweet one."
The two brewed a test batch at 21st Amendment's San Francisco brewpub and then perfected the recipe at 21st Amendment's partner brewery in Cold Spring, MN. The resulting profile is a rich, brandy-colored beer with complex malt flavors, nuanced by the sweetness of dates and aggressively hopped for a balanced bitterness and pleasant dry hop aroma.
Allies Win the War! is now available in four-pack cans and on draft at quality bars and stores in all 15 of 21st Amendment's current distribution territories, including CA, OR, WA, AK, ID, MN, OH, MA, NY, NJ, DC, MD, PA, VA, and GA. Beer lovers in California, Oregon, Maryland, New York and Washington, DC will have a chance to meet the brewers at kick off events slated for November 4 – 17. For up-to-date availability, events and promotions, visit www.21st-Amendment.com.
About 21st Amendment's Insurrection Series
Allies Win the War! is part of our Insurrection Series, a limited edition, once-in-a-while, four-pack release of a very special beer that rises up in revolt against common notions of what canned beer can be.
About 21st Amendment Brewery
Who the heck are these guys? Hey, we're Nico and Shaun. We live for great beer. In 1920, there were thousands of breweries across America making unique, handcrafted beer. The passage of Prohibition wiped out this great culture. After thirteen years without beer, the states ratified the 21st Amendment, ending Prohibition in America. At the 21st Amendment Brewery, we celebrate the right to brew beer, the freedom to be innovative, and the obligation to have fun.