Craft Beer News Roundup: Dogfish Head, Marin Brewing and The Return of Knuckle Sandwich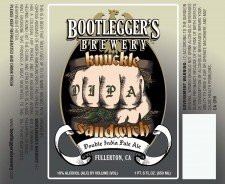 It's time, it's craft beer news time! Here are some interesting bits from Dogfish Head, Marin Brewing and Bootlegger's Brewery. Enjoy! 
Dogfish Head – Two interesting tidbits from the official Facebook Page. "We're brewing our Extreme Beer Fest collaboration beer with the crew from Beer Advocate today! What is it, you ask? Let's just say it was martini-inspired: brewed w/ olive purée, angelica root, lemon & orange peel, juniper berries, black peppercorn, coriander, Cascade hops, 5%  We'll be pouring it at the 2012 Extreme Beer Fest in Boston – hope you'll be there!" And the lost, 6th episode of Brewmasters aired Sunday night in Italy. "The elusive episode 6 of 'Brewmasters' aired this evening in Italy (where it was partially shot)… very cool to hear from our Italian brewer friends at Birra del Borgo and Baladin that their phones are ringing off the hook as their breweries played a big part in the show (along with the Birreria brewpub on the roof of Eataly NYC)!"
Marin Brewing – Marin Brewing quietly announced the return of Bourbon Barrel Aged Old Dipsea Barleywine in one of their emailers. " Old Dipsea Barleywine is back for the holiday season!! In bottles now, on tap next week & bourbon barrel aged before the end of the month. Come and get it y'all"
Bootlegger's Brewery – The 2010 Craft Beer of The Year, voted on by you, the readers of The Full Pint, returns this weekend. Here is the skinny from Bootleggers:
– We brewed the most at one time we ever have this go around…about 100 barrels
– Most of it was shipped to distributors yesterday and could be hitting shelves as early as today.
– We will be releasing it at the brewery on Thursday with a limit per transaction/person of 6 bottles AND 1 growler. However, due to a delay in our growler shipment we are short on growlers (we will run out this weekend) so we are asking everyone to please remember to bring their growlers if they want to guarantee a fill.
– We will make sure we have an allotment of bottles and growler fills each day this weekend at our tasting room, so if people can't make it on Thursday they can still get some.
– Please be patient with us since we are anticipating that a lot of people will be coming this weekend for Knuckle Sandwich.