Craft Beer News Roundup: Dogfish Faithfull, Ommegang , Short's Brewing and Heretic Brewing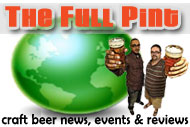 Oh no, it's time for another edition of Craft Beer News Roundup, a quick run down of notable pieces of craft beer news for your enjoyment. In this edition, read tidbits on Dogfish Head's Faithfull Ale, Brewery Ommegang, Short's Breiwng as well as Heretic Brewing. Cheers!
Dogfish Head – Clarification from Sam on whether Dogfish Faithfull Ale is a rebrand of Au Currant – " Faithfull uses a different Yeast , different hops, and ten additions of currants as opposed to the two editions for au currant.  A very different beer. It was designed around the bands on stage penchant for "fruity northwest pinots and a shit ton of Mexican lager". We basically brewed it to combine both those worlds."
Brewery Ommegang – The Daily Star reports: Brewery Ommegang is warning that it would have to consider relocating if the town of Middlefield's ban on gas drilling is struck down and horizontal gas drilling begins. Read the entire article at http://thedailystar.com/localnews/x1267472742/Ommegang-Fracking-may-force-us-to-leave .
Short's Brewing – Short's announced a few open positions at the seemingly fun brewery. Help Wanted: Elk Rapids Filler Operator and We're hiring! Looking for a design ninja with a strong dev/programming skills to compliment your super awesome design skills.
Heretic Brewing – From Jamil on Heretic's Facebook Page – "Bottling Shallow Grave Porter on Tuesday 12/6. It has this great, rich chocolate character from the Thomas Fawcett malts, without being overly sweet. I'm really very happy with how this beer turned out. I think it is one of the best porters I've ever tasted. I wouldn't change a thing. -JZ"