Clipper City Brewing Company Releases "HOLY SHEET" Über Abbey Ale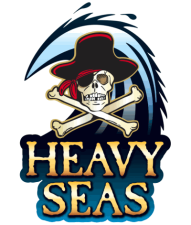 Seasonal Brew is Part of Clipper City's Heavy Seas Brand of Beers
Baltimore, MD – Clipper City Brewing Company, the Maryland-based brewer of the Heavy Seas brand, announced today the seasonal release of "Holy Sheet" Über Abbey Ale.
"We have a great deal of fun experimenting with different beer styles," said Hugh Sisson, founder and general partner of Clipper City Brewing Company. "This aromatic and very full bodied ale derives from the centuries-old tradition of Belgian Abbey monks. The color is a deep burgundy and features a rich, robust depth of malt character while clocking in at 9% alcohol by volume. Interestingly enough, the beer will drink well now but continue to improve for at least another 12 months in the bottle."
Holy Sheet is available from February 1st until the end of March, while supplies last.
Clipper City Brewing Company has eight beers in its pirate-themed Heavy Seas brand portfolio, and each is currently available in eighteen states, as well as the District of Columbia. The beers are available in both 12 oz. bottles and draft, and may also be purchased in a variety twelve pack called the Sunken Sampler
"Heavy Seas is our line of big beers," said Sisson. "The entire line is 7% ABV and up, with a concentration on creative beer styles, rich flavor profiles, and 'extrAARGHdinary' complexity."
Clipper City Brewing Company was founded in 1995 by Baltimore brewing pioneer, Hugh Sisson. The brewery is named for the famous Baltimore Clipper ship, a symbol that embodies Baltimore's maritime heritage and a commitment to craftsmanship of the highest caliber. In addition to the Heavy Seas line of beers, Clipper City's portfolio of products includes the Clipper City and Oxford Organic Ales.
Contact:
Sue Urbanek, Moorea Marketing 410.769.8223 [email protected]
Andrea Kunicky, Maroon PR 410.442.1221 [email protected]