Cigar City Hunahpu's Day 2011 – Update and FAQs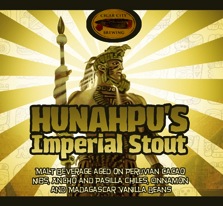 With so much going on this Saturday we were bound to forget a few details here and there so hopefully we can answer most of the remaining questions here:
What time will be brewery be open? When does the event begin? The brewery will be open and the event begins at 11 am.
When will you begin handing out wristbands for Hunahpus? We will begin handing out wristbands as soon as we open and continue until they are gone.
When will Hunahpus actually be released? Each person who has a wristband will be able to purchase up to 4 bottles of Hunahpus Imperial Stout for $20 each at 6PM.
What's the deal with the special release growlers? For special release growlers the price will be $20 including the glass. There will be a limit of 2 growlers total per person.
How much will the Mikkeller Collaboration beers be? Dirac and Bohr $15 each
How much will draft beer be? All of the draft beer available will be $5.00, there will be 2 different sized pours (10oz. & 14 oz.) the smaller of the two for high gravity, or very limited offerings.
Can I use my Groupons? Since this is a special event day and we are expecting a high volume of people; we will be accepting Groupon coupons in the tasting room for draft beer only. All bottles, merchandise, etc. will be sold in the brewery along with the special release growlers.
We have added a few more beers to the tap list:
Humidor Dry Irish Stout
White Oak Patio Tools
Pineapple Orange IPA
A correction from the last blog:
The Oak Aged Vuja De' will be on the tap list but we will NOT be pouring growlers of this due to the very limited yield.
Cheers!
The CCB Crew