Cigar City Brewing – Tampa Bay pitcher Jamey Wright Supports "Hops for Heroes" and Homefront IPA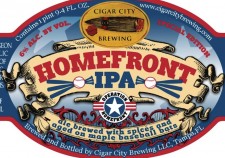 Tampa Bay pitcher Jamey Wright is proud to support "Hops for Heroes" and Homefront IPA and thanks Cigar City Brewing in Tampa Bay for their efforts.
(Tampa, Florida) Hops for Heroes and Homefront IPA are proud to announce the support of Tampa Bay pitcher Jamey Wright and name him ambassador for the charitable efforts in Florida.
Cigar City Brewing, located in Tampa, Florida will release Homefront IPA on Thursday, May 23rd at The Ale and the Witch in downtown St. Petersburg in the Tower Plaza Courtyard. They will also hold a special event in their tasting room on Saturday, May 25th with all proceeds benefitting Operation Homefront.
Other baseball ambassadors will be announced in Washington, Arizona, California, Colorado, Florida, Missouri and Pennsylvania.
###
Chris Ray, previous pitcher for Baltimore, Seattle, Texas and San Francisco and co-founder of Hops for Heroes (www.hopsforheroes.com) is available for interviews.
About Cigar City Brewing
Cigar City Brewing was founded with two goals in mind. The first to make the world's best beer and the second to share with people near and far the fascinating culture and heritage of the Cigar City of Tampa.
From its past as the world's largest cigar producer to its Latin roots and the many other diverse peoples that call it home, Tampa draws on many sources to develop its unique culture.
At CCB we are fascinated by Tampa's history and suspect you will be too.