Christian Moerlein Brewing Introduces the 15 Can Brewer's Pack
(CINCINNATI, OH)– The Christian Moerlein Brewing Co. will be introducing their popular 15 Can Brewer's Pack in a new Variety Pack edition.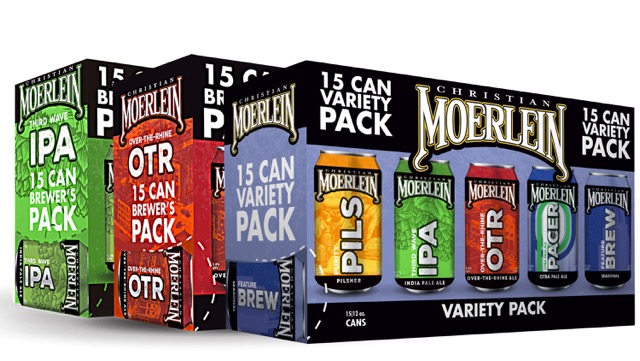 The Moerlein Variety Pack features 5 styles of beer including a rotating seasonal feature brew. Explore the variety of the Christian Moerlein portfolio with 3 cans each of: Third Wave IPA, OTR Ale, Pacer Citra Pale Ale, Purity Pils, and a rotating feature can.
• Third Wave IPA- (6.5% ABV, 65 IBUs) an aggressively hopped India Pale Ale bursting with floral aromas and citrus flavor.
• Over-The-Rhine Ale- (5.8% ABV, 40 IBUs) The medium malt body is met with subtle hop addition to give OTR a perfect balance.
• Pacer Citra Pale Ale- (5% ABV, 40 IBUs) an explosive punch of citrus aromatics and notes of tropical fruit backed by an easy-drinking pale body
• Purity Pils- (5.5% ABV, 40 IBUs) serving up a clean and refreshing full-bodied taste with a hoppy, lemon zest aroma.
• Seasonal Feature- the seasonal feature brew will include the likes of Moerlein's Bay of Bengal Double IPA, Big Piney IPA, Das Über Fest Lager, or Strawberry Pig Cream Ale. The feature will be labeled on each individual package.
The 15 can Brewer's Packs are also available in Third Wave IPA and OTR Over-The-Rhine Amber Ale. All 15 Can Brewers Packs have a suggested retail for $17.99. The new Variety Pack will officially hit the market on March 15, 2017 and can be purchased at better beer retailers throughout Ohio and Kentucky.
To stay up to date on all of our Christian Moerlein events, please like our Facebook page (Facebook.com/ChristianMoerlein), follow us on Twitter (@moerleinbeers), and Instagram (moerleinbeers).
About Christian Moerlein Brewing Company
The brewery established in 1853 by Christian Moerlein, a German immigrant that prospered as a world renowned master brewer was located in the Brewery District of Over-The-Rhine, Cincinnati, USA. Today Christian Moerlein Brewing Company brews a wide range of craft beers and was the first American beer to pass the German Purity Law of 1516 known as the reinheitsgebot, which states only malt, hops, yeast and water can be used in the brewing of beer. Christian Moerlein is also one of the pioneer brands of today's craft beer movement and first began selling "better beer", a precursor of the craft category, in 1981 through the Hudepohl Brewing Company of Cincinnati. Since 2004, Christian Moerlein Brewing Co. has been owned by Gregory Hardman; a greater Cincinnati resident that has been credited with reviving Cincinnati's grand brewing traditions and current craft beer movement. Christian Moerlein beer is brewed in Cincinnati at both the Moerlein Lager House and its craft beer production brewery in Cincinnati's Over-the-Rhine Brewery District.
The Moerlein Lager House, which opened in February of 2012 is located in the Smale Riverfront Park, has 28,000 square foot of floor space, a functioning 5,000 barrel capacity brewery with over 800 seats for diners, has two beer gardens that can handle an additional 600 guests (total capacity with beer gardens over 1,400), can produce 4,000 meals a day and boasts 360-degree views of the Cincinnati skyline including the Ohio River, Roebling Suspension Bridge, Great American Ballpark (home to the Cincinnati Reds) and Paul Brown Stadium (home to the Cincinnati Bengals). The Moerlein Lager House has become a premier destination for craft beer enthusiasts and is a tribute to Cincinnati's grand brewing traditions and its famed 19th century brewer, Beer Baron Christian Moerlein.