Caution Brewing Employee Openly Criticizes Evil Twin Brewing's Pricing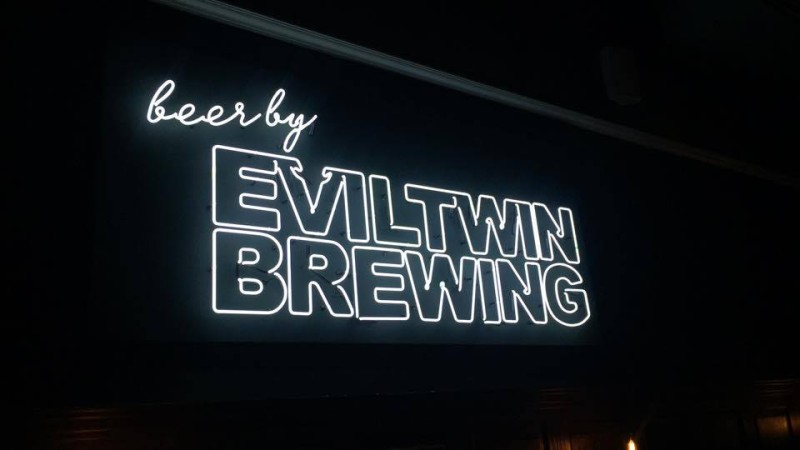 (Brooklyn,NY) – We just caught a controversial post on Evil Twin Brewing's Facebook. They posted a long winded letter from Chris Klein of CAUTION BREWING in Colorado, criticizing Evil Twin's product pricing as well as other brewer's products. Read on, and share your thoughts in the comment section. "
"We might have our most unhappy customer to date. Chris Klein of Colorado Brewery Caution Brewing Company send us a not-so-collegial email:
Dearest Evil Twin(s),
First and foremost, let me say that you folks make some excellent beers, and I have the utmost respect for your brewers. I've had some average ones here and there, but the vast majority of your portfolio is top notch. What I do not particularly care for is the disgusting, offensive, pompous, and entirely [email protected] price point at which you set your beers.
Yes, bombers are one thing. You can sell a 6% beer as $10 bomber, and you won't hear much fuss, even though you should. You might even be able to sell it for $12, if it's a really, really well-made beer. But you guys, oh I bet your team of sales assho*es could (try to) sell it for $20…am I right?!
On the other hand, the pricing of your four packs and six packs is insultingly exorbitant at best. I could reference most of your catalogue in making this point, but instead, I'll focus on two key examples. First, three to four years ago, your Hipster Ale was being sold for $3 a can plus tax in the southern states. It was seemingly not being sold in larger packs at that time. Considering that it is an average American pale ale on a good day, and its alcohol content is the norm for the style, that was absolutely absurd. Since then, both the price point and the packaging (now in six packs) has changed. It seems clear that you all learned your lesson on that one, but yet you continue such indecency with most other beers. The latest example is your NomaderWeisse Berliner Weisse.
I should note here that I work for a Colorado brewery and intricately understand the costs and labor of making certain styles. Sour/tart beers can cost more and take longer to make, and I am always happy to pay a little extra for good people's labor. Unfortunately, that is far from the case here. Just yesterday, I saw your Berliner Weisse being sold for $18.99 a six pack, plus tax. I realize that much of this might be markup by the local liquor store, but even on the East Coast, I'm hearing of prices from $13-15. I'll settle on $15 as an average from here on out. Sadly, $15 per six pack implies that you very well might not be "good people," as such a price for a 4% beer is highway-fucki&g-robbery. There's no way in hell that this beer costs that much to make, and the industry provides a number of examples as evidence. Anderson Valley (CA) sells a couple of great 4.2% goses, both for $9-10 a six pack, while Westbrook (SC – where you brewed this god-forsaken beer) sells their excellent gose at the same price and size.
I imagine you guys would argue that, as gypsy brewers, you pay more for the use of facilities, and as a result, have to pass much of that cost on to your customers? Let me remind you all that you have chosen this path; nobody forced you to brew without a permanent location. Financially, you folks are barely getting by, or you're raking in the cash. I'm guessing that the reality is closer to the latter, and in that case, might I suggest buying some equipment and backing off of those who want to be your loyal customers? There's no excuse for gouging your customers just because you don't want to stay put or shell out for your own system.
Yes, you could also argue that Dogfish Head started this model, and that you're just following in their footsteps. The difference is Dogfish Head puts obscure, rare, highly sought-after ingredients in many of their beers and still manages to charge at least 10% less than you guys. Another example of high pricing is Ballast Point, who seems to be riding the overhyped wave all the way to $14-15 six packs of their Sculpin IPA. And guess what?! It makes them look like total assho#es, and everyone knows it! I can name 10 IPAs that are just as good as, if not better than, Sculpin, and for that reason, I never buy that beer in liquor stores. Finally, and perhaps most importantly, don't let your social media lackey go on Twitter and compare the pricing of heady, also bu*lshit, foodie juice blends to your beer pricing. Everyone knows those juices are laughably overpriced, but more so, what the [email protected] does the price of trendy juice have to do with the price of your beer?! If you guys are too damn stupid to figure it out, comparing someone else's offensively overpriced thing to your offensively overpriced thing isn't helping your already weak defense. In terms of any other defenses or counter-arguments you might have, I'll be frank and say that I don't really care to hear your propaganda. I've formed my opinion, and there's a near-absolute chance that nothing you can say will change it.
More eloquently, I've always loved much of your portfolio, but I'm becoming fed-up with being treated like a source of income, as opposed to a member of a group that you folks need to survive. You're already one of the biggest jokes of the industry with your childish sibling bickering, so why not stop there, and treat everyone else in the world with some fucki*g respect?
Yours truly,
Chris Klein"