Catawba Brewing Announces Limited Bottle Release of Red Rhum Barrel-Aged IPA
(Asheville, NC) – Catawba Brewing will release Red Rhum, a rum barrel-aged red IPA, as their first ever specialty 22oz bottle from their long-running Barrel Program. To date, Catawba barrel-aged beers have been offered only on draft. Red Rhum bottles will be available for purchase at their Asheville South Slope brewery at 12pm on March 18. This beer is a rare find, so the brewery encourages customers to arrive early. Red Rhum will also see limited distribution in North Carolina.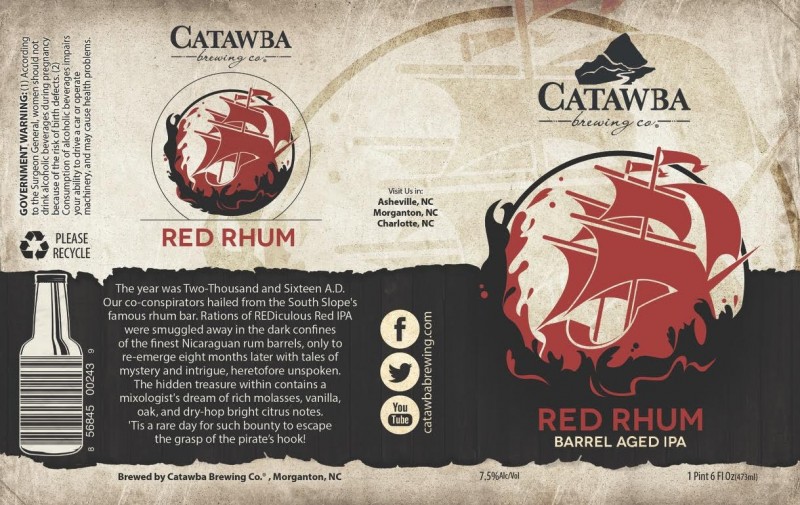 About Red Rhum – This 2016 vintage REDiculous Red IPA (7.5% ABV) was aged for eight months in Flor de Caña Nicaraguan rum barrels. It was then dry-hopped, producing bright citrus notes to complement its rich molasses, vanilla, and oak. The beer is a collaboration with a popular rhum bar on the South Slope.
About Catawba's Barrel Program
Catawba has cemented its reputation among the pioneers of barrel-aged beers in North Carolina. Their Barrel Program was first introduced in 2000, when Whiskey River IPA proved to be a revelation to the local beer scene. Interestingly, it all started as a matter of necessity. In the early days, Catawba's fledgling brewery couldn't afford big stainless steel storage tanks or kegs, so they used cheap Jack Daniels barrels instead. The unique flavors imparted by the repurposed oak barrels were extremely well received, and inspired further explorations.
About Catawba Brewing Company
Founded in 1999 by the Pyatt family, natives of Western North Carolina, Catawba Brewing operates a main production facility in downtown Morganton, NC at 212 S. Green St; a boutique brewery/tasting room in downtown Asheville, NC at 32 Banks Ave; and a tasting room in Asheville's Biltmore Village at 63 Brook St. A new Catawba brewery/tasting room will open in Charlotte's Plaza Midwood neighborhood at 933 Louise Ave in March 2017. Catawba beers can be found in NC, SC, TN, AL, and coming soon to GA.
catawbabrewing.com – @CatawbaBeer – facebook