Cape May Brewing Announces Inaugural Pick of The Batch Beer Garden
(Cape May, NJ) – Cape May Brewing Company is thrilled to announce their inaugural Pick of the Batch Beer Garden, a family-friendly event featuring an exclusive lineup of fourteen beers including over six small-batch fall beers, on October 12th from 2 to 6pm at their Tasting Room at 1288 Hornet Road in the Cape May Airport.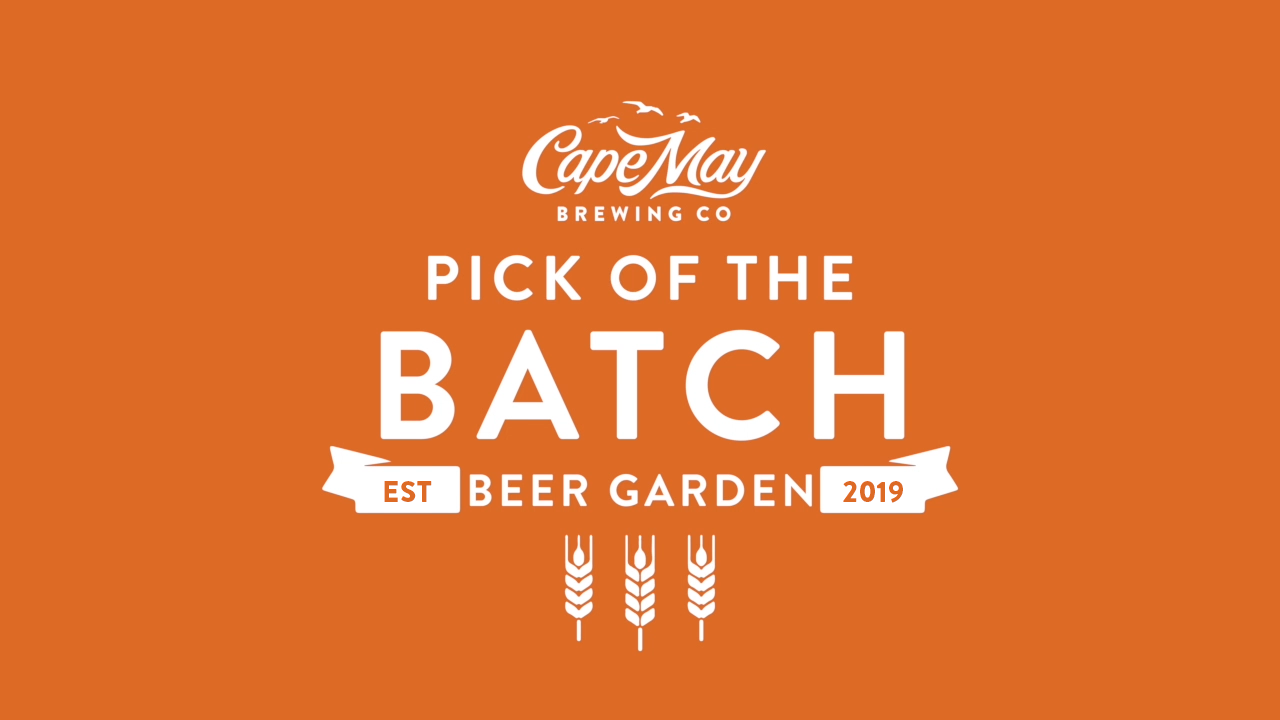 "Beer is awesome throughout the year," says CMBC CEO and co-founder Ryan Krill, "and as the days get shorter, there's nothing better than a cold beer to welcome the autumn."
At Pick of the Batch, revelers will have the chance to sample nearly a dozen one-off, small-batch, cask, innovative, and specialty brews. Among the beers slated to make an appearance are a mouthwatering Apple Pie ala Mode crafted with CMBC's exquisite Apple Pie, a Pumpkin Shandy, their one-off fan-favorite Devil Goes to Moscow on a Mule, and a multitude of new favorites fans will be sure to love.
"Most people are familiar with an Oktoberfest," says CMBC Events Coordinator Randi Friel, "but with Pick of the Batch, Cape May Brewing Company is breathing new life into a two-hundred-year-old tradition. It's not just about beer: it's about all of our exclusive brews you won't be able to get anywhere else. Ever."
In addition, many of Cape May Brewing Company's award-winning beers will be on tap, including their autumn favorite Oktoberfest; their distinctive Pale Ale honoring the men and women of the US Coast Guard, Always Ready; their new fan-favorite orange IPA, Crushin' It; and an exclusive collaboration with Other Half of Brooklyn.
The day will be fun for the whole family, with face painting, a hay maze, and pumpkin painting, including examples by local artist David Macomber whose artwork adorns much of CMBC's Tasting Room, including their interactive, self-guided tour.
Visitors will receive a commemorative, limited-edition beer stein, perfect for use during the Steinholding competition. Competitors will hold a full beer stein, straight-armed, for as long as possible, with the winner receiving a CMBC swag bag.
With music provided by Animal House, it's sure to be the perfect way to welcome autumn. This powerhouse five-piece has played up and down the east coast, from Killington, Vermont, to Key West, Florida, turning out classic covers in party rock, reggae, calypso, dance, funk, hip-hop, and alternative music.
Pick of the Batch Beer Garden, with its lineup of exclusive beers, live music, and autumn fun for all ages, will fit perfectly into your weekend plans. Tickets are $10 apiece — kids and designated drivers are free — and can be purchased at capemaybrewery.com/pickofthebatch.
For more information, including for tours and tastings, see www.capemaybrewery.com, or call (609) 849-9933.
###
About Cape May Brewing Company:
Once upon a time, 20-something Ryan Krill earned a six-figure salary working in finance and real estate development in Manhattan, while his college roommate, Chris Henke, designed commercial satellites. During a summer weekend at the Jersey shore, they brewed a batch of beer with Ryan's dad. "Should we open a brewery?" Ryan asked, only half-serious. But, by the following year, the three guys had secured a space at Cape May Airport where they concocted a makeshift brew system and honed their beer-making skills. In 2011, they started with one client. Today, there are hundreds of accounts in New Jersey and Pennsylvania proudly serving the guys' award-winning recipes. And CMBC's fearless leaders have never looked back.