Bruery Terreux Issues Gusher Warning on Tonnellerie Rue
(Placentia,CA) – Recently, we packaged our newest saison from Bruery Terreux®: Tonnellerie Rue. It's a barrel-fermented saison with wild yeast and bacteria. One of the many beautiful things about wild yeast, such as brettanomyces, is that it eats sugars more voraciously than nearly any other yeast family. In bottle conditioning, this is what carbonates the beer over time and continues the beer's development in the bottle. Too much yeast (along with varying contributions from wild bacteria) may result in overcarbonation, and in more extreme circumstances, it creates a gusher.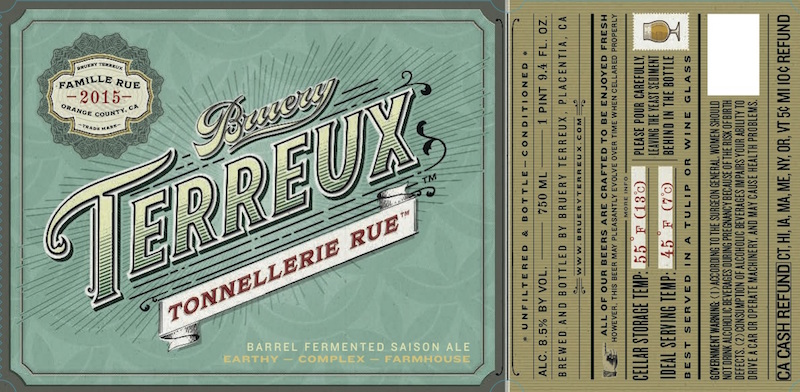 While only a small portion of Tonnellerie Rue bottles are currently gushing upon opening, we did want to caution you. Before opening your bottle, make sure it has had the opportunity to chill for several hours. Be near a sink. If it does foam out of the bottle, the expelled liquid should be minimal, estimated to be less than 2.5 fl. oz. when served cold.
As expected, we've learned from this situation. And thankfully, we discovered the gushing potential on bottles we personally opened. As Tonnellerie Rue makes its way to you, we hope you can learn from our experience. If the beer does happen to lose a more significant amount of its volume when opened and you would like the situation remedied, please email us your information (and picture of the bottle, if possible) to [email protected]
We're extremely proud of this beer, especially in the fact that it showcases the nuances that can come from barrel fermentation. Drink it alongside Saison Rue for an even more thrilling ride through sensory. Until then, cheers!
The fine folks at The Bruery