Brooklyn Brewery Makes Minor Investment in 21st Amendment & Funkwerks
Thanks to a shared love of great beer, storytelling, and fun, we are proud to unite with our friends at 21st Amendment Brewery in San Leandro, California, and Funkwerks Brewing Company in Fort Collins, Colorado, to announce an innovative new shared platform for sales and distribution nationwide.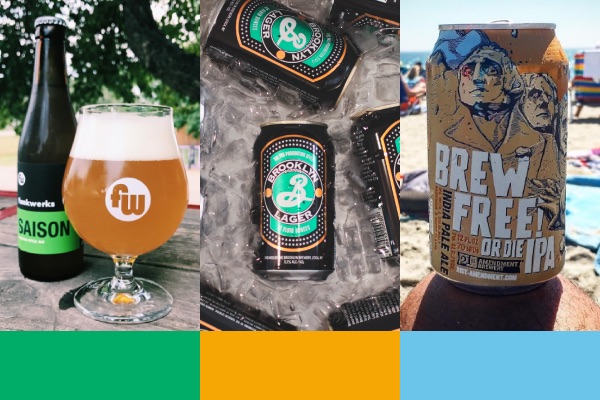 By our powers combined, we'll be able to reach new markets, bring an incredible array of beers and styles to drinkers, and continue to grow and invest in all three breweries as independent craft brewers. We'll also be able to make that Captain Planet reference all the time. When we officially swing into action on January 1, 2018, our team will consist of nearly two hundred well-trained reps and ambassadors covering thirty-eight states. And that's just the beginning.
What does this all mean for you, exactly? There's still plenty of work to do, but you can expect our collective beers to spread further than before. Yes, that means Brooklyn Lager will someday soon pour in the Bay Area, and 21st Amendment cans will roll forth along the Gulf Coast, and Funkwerks will pop up in Brooklyn. Plus, there will be lots and lots of parties, with plenty of beer from all of us. Again, that's what this all comes down to: having fun with your friends. It's just helpful when your friends happen to make excellent beer.
Check out our official announcement below, and keep an ear out for more news to come, beer to make, and invitations to send. Any time you're in one of our neighborhoods, come grab a beer with us and chat. We can't wait to tell you more!
#########
Brooklyn Brewery, 21st Amendment, Funkwerks Announce Joint Sales & Distribution Platform
The Brooklyn Brewery (Brooklyn, NY), 21st Amendment Brewery (San Leandro, CA) and Funkwerks Brewing Company (Fort Collins, CO) are launching a new sales and distribution platform effective January 1, 2018. The combined sales organization includes a field sales and key accounts team of 70 salespeople and 90 Brand Ambassadors covering 38 states.
"The changes in the competitive landscape demand creative new go-to-market strategies" says Robin Ottaway, President of Brooklyn Brewery. "We consider ourselves incredibly fortunate to have found partners who share our passion for beer, want to remain independent, and hold a long-term view."
"The three breweries and sales teams really fit together well," says Dave Duffy, VP of Business Development for Brooklyn who'll lead the new platform. "We're aligned where we need to be, complementary where we need to be, and have a lot of domestic and international territory to grow into together. We can't wait to start adding value to our retail and wholesale partners in a compelling new way."
"Each of us brings something different to the table," adds Dave Wilson, President of 21st Amendment. "From the diverse beers we produce to our unique perspectives, origins and brand personalities, we're thrilled to band together with Brooklyn and Funkwerks and bring great beer to more craft drinkers across the US."
Brad Lincoln, co-founder of Funkwerks, adds: "What attracted Funkwerks to this platform is gaining access to a large and well-trained sales team and top-quality brewing skill. From there we get to stay independent, control our destiny, and focus on doing what we truly love to do- make creative, compelling, and delicious beers."
Brooklyn Brewery has made minority investments in both 21st Amendment and Funkwerks in support of the partnership. The three partners will co-develop annual sales & marketing plans and together look for additional beverage companies to join the fun.
"American craft brewers need to stick together and find new ways to meet the challenges of the 21st Century marketplace," said Brooklyn founder Steve Hindy. "We are excited to work with 21st Amendment and Funkwerks to ensure the spirit of independence that built the craft beer revolution continues to lead that revolution."
Funkwerks and 21st Amendment were represented by First Beverage Group and Spencer Fane LLP in these transactions.