Brewers Association Introduces Certified Independent Craft Seal w/ Commentary
2017 will be remembered as the year things got more than heated between craft breweries and mega-brewing corporations who are trying to blend in with small, independently owned breweries. While just a few years ago, the term craft was understood as the replacement word for a microbrewery, lack of governance has rendered the word almost useless. Much like the trappist breweries have given themselves a seal to signify an authentic product brewed in a trappist monestary, The Brewers Association has announced a mark that will clearly inform consumers that the beer in their hand is made by an independently owned brewery and not by a international mega corp.
While this is a great step for craft brewers (by BA definition of course), I am afraid this might be quickly compromised by a similar mark or marketing initiative by the big evils in the beer world. For now, this makes a positive bold statement, and I hope that the Brewers Association takes this a step farther and employs some quality standards in the future. Read on for BA's press release on this landmark moment.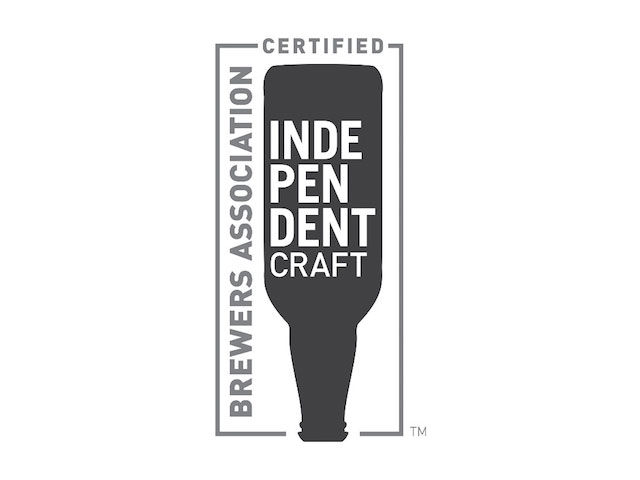 (Boulder, CO)  —In an effort to educate beer lovers about which beers are independently produced, the Brewers Association—the not-for-profit trade group dedicated to promoting and protecting America's small and independent craft brewers—launched a new seal touting independent craft brewers.
Featuring an iconic beer bottle shape flipped upside down, the seal captures the spirit with which craft brewers have upended beer, while informing beer lovers they are choosing a beer from a brewery that is independently owned. These breweries run their businesses free of influence from other alcohol beverage companies which are not themselves craft brewers.
Independence is a hallmark of the craft brewing industry, and it matters to the brewers who make the beer and the beer lovers who drink it. A recent study commissioned by Brewbound and conducted Nielsen found that "independent" and "independently owned" strongly resonated with the majority (81 percent) of craft beer drinkers. Increasingly, they are looking for differentiation between what's being produced by small and independent craft brewers versus Big Beer and acquired brands. Beer drinkers, especially Millennials, expect transparency when it comes to their food and beverages. That transparency and underlying ownership can drive their purchase intent.
"Independent craft brewers continue to turn the beer industry on its head by putting community over corporation and beer before the bottom line. They continue to better beer and our country by going beyond just making the beverage. These small businesses give back to their backyard communities and support thousands of cities and towns across the U.S.," said Bob Pease, president & CEO, Brewers Association. "As Big Beer acquires former craft brands, beer drinkers have become increasingly confused about which brewers remain independent. Beer lovers are interested in transparency when it comes to brewery ownership. This seal is a simple way to provide that clarity—now they can know what's been brewed small and certified independent."
The seal is available for use free of charge by any of the more than 5,300 small and independent American craft brewers that have a valid TTB Brewer's Notice, meet the BA's craft brewer definition, and sign a license agreement. It is available to both member and non-member breweries of the BA. In the coming weeks, months and years, beer lovers will see it on beer packaging, at retailers and in brewery communications and marketing materials.
"Craft brewers build communities and the spirit of independent ownership matters" said Rob Tod, chair, Brewers Association Board of Directors and founder, Allagash Brewing Company in Portland, Maine. "When beer lovers buy independent craft beer, they are supporting American entrepreneurs and the risk takers who have long strived not just to be innovative and make truly great beer, but to also build culture and community in the process."
While small and independent craft brewers represent 99 percent of the 5,300+ breweries in the U.S., they make just 12 percent of the beer sold in the country. The rest of U.S. beer sales comes from Big Beer along with imported brands. As large brewers continue to have unprecedented influence and acquire millions of barrels of formerly independently brewed beer, the seal differentiates in a crowded and increasingly competitive marketplace.
Breweries can find more information about the independent craft brewer seal at BrewersAssociation.org/seal and beer lovers can learn more at CraftBeer.com/seal. Follow the discussion at #IndependentBeer.
About the Brewers Association
The Brewers Association is the not-for-profit trade association dedicated to small and independent American brewers, their beers and the community of brewing enthusiasts. The Brewers Association (BA) represents more than 70 percent of the brewing industry, and its members make more than 99 percent of the beer brewed in the U.S. The BA organizes events including the World Beer CupSM, Great American Beer Festival®, Craft Brewers Conference & BrewExpo America®, SAVOR℠: An American Craft Beer & Food Experience, Homebrew Con, National Homebrew Competition and American Craft Beer Week®. The BA publishes The New Brewer® magazine and its Brewers Publications™ division is the largest publisher of contemporary and relevant brewing literature for today's craft brewers and homebrewers.
Beer lovers are invited to learn more about the dynamic world of craft beer at CraftBeer.com and about homebrewing via the BA's American Homebrewers Association and the free Brew Guru™ mobile app. Follow us on Facebook and Twitter.
The Brewers Association is an equal opportunity employer and does not discriminate on the basis of race, color, national origin, gender, religion, age, disability, political beliefs, sexual orientation, or marital/familial status. The BA complies with provisions of Executive Order 11246 and the rules, regulations, and relevant orders of the Secretary of Labor.