BREAKING NEWS – Fire Damages Two Buildings at New Belgium's Asheville Site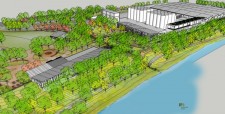 (Asheville, NC) – Fire damaged two separate buildings on New Belgium's Craven Street construction site in Asheville after a blaze broke out around 11:00 pm on Friday, April 5th. No injuries were reported and Asheville Fire Department had the blaze fully contained by 4:00 am. The Penland Auction House and a hay barn were heavily damaged. Investigators are calling the fire intentional. New Belgium Asheville General Manager, Jay Richardson, is flying in to meet with community leaders and fire officials.
"The safety of our contractors and of our friends and neighbors in the community is our top priority," said Richardson. "We will work closely with Asheville Fire Department officials to determine the cause of the blaze. We will put every available resource into securing a safe working environment so that construction will continue on schedule and uninterrupted."
New Belgium has been paying for increased security by off-duty Asheville Police Department personnel and a private security firm since February, 2013. In light of several recent suspicious fires in the area, New Belgium will pay to increase those existing patrols. Damage to fencing has been repaired and the site is currently locked and considered secure.
The Auction House was set for disassembly this spring. Materials were to be used on-site and repurposed by Old World Architectural Salvage of Asheville.
"The loss of those materials is certainly disheartening," said Richardson. "This event only focuses our efforts to revitalize this site into a place that will truly make Asheville proud."
Anyone with information regarding the fire is asked to contact the Buncombe County Crimestoppers:
Lt. Randy Smart
828-778-0011
http://www.buncombecounty.org/governing/depts/sheriff/Crimestop.aspx
New Belgium will post updates to their website and Facebook pages as there are developments:
https://www.facebook.com/NewBelgiumAsheville
About New Belgium Brewing Company 
New Belgium Brewing, makers of Fat Tire Amber Ale and a host of Belgian-inspired beers, is recognized as one of Outside Magazine's Best Places to Work and one of the Wall Street Journal's Best Small Businesses. The 100% employee owned brewery is a Platinum-level Bicycle Friendly Business as designated by the League of American Bicyclists, and one of World Blu's most democratic U.S. businesses. In addition to Fat Tire, New Belgium brews eight year round beers; Ranger IPA, Rampant Imperial IPA, Shift Pale Lager, Sunshine Wheat, 1554 Black Ale, Blue Paddle Pilsener, Abbey Belgian Ale and Trippel. Learn more at www.newbelgium.com.