A Stone Brewing Sour Program Not Too Far Away?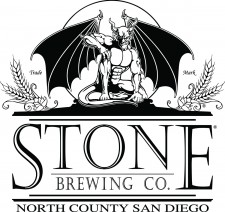 It was over two years ago at Stone Sourfest at Stone Brewing World Bistro and Gardens that they poured a beer called Stone Sour Peach and another beer called Stone Funky Sour.  They didn't piss me off, although I was still new to sour beers at that point, many folks were not very kind to these offerings. words like stinky cheese and feet were used to describe these beers.
Fast forward, and Stone has begun a barrel aging program, offering many variants of their special release beer aged in wine and sprit barrels.  They have also been releasing a very experimental line dubbed the Mix Tape Series, in which they have blended a many of their existing beers from their core lineup and barrel aged lineup.
This week, Stone released a beer called Stone Mixtape Ale Vol.4 – RK & JM's Blend. The components of this blend are 2012 Stone Imperial Russian Stout aged in Bourbon Barrels, 2012 Stone Imperial Russian Stout aged in Red Wine Barrels, 2012 Stone Old Guardian Barley wine aged in Red Wine Barrels, and Stone Flemish Bruin Ale with an addition of dried cherries and toasted coconut.
Wait a minute!! Stone Flemish Bruin Ale?  We immediately contacted Stone when we got wind of this particular component to see if this beer will be available on it's own.  Sadly, we were told it's not being offered and no time table was given. We were however given information on this ale from Brewmaster Mitch Steele.
About a year ago, we had some brewing capacity and brewed a base Belgian amber/brown beer that we were calling Flanders Brown. The idea was to have it ready so we could inoculate it with bacteria and sour it if/when we started a sour program. It was pretty authentic-a blend of Pilsner and pale Ale, Munich and Vienna malts, and fermented in primary with the Ardennes Belgian yeast strain. After primary fermentation, we put the beer in barrels, hoping to sour it at some point, but we never did.

We haven't started a sour program, so this most excellent and delicious base beer is still sitting in barrels, and will probably be blended out to several special release offerings like our Mixtape blend, or perhaps kegged on its own, sometime over the next few months. So, the name "Flanders Brown" was just a place holder and does not reflect the style of beer.
Mitch made no mention of the beer I asked about, Flemish Bruin Ale. So maybe the mix tape description is wrong, or we are splitting hairs on the name. Based on this info, Stone has some things in place to begin souring some special beers, but when exactly is unknown.