Book Release: The Craft Of Stone Brewing Co.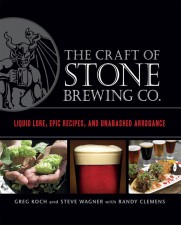 Escondido, CA — It is with great pomp and gusto that Stone announces its highly anticipated literary tome – The Craft of Stone Brewing Co.: Liquid Lore, Epic Recipes, and Unabashed Arrogance – will be gracing bookstore shelves everywhere on September 27th.
About The Authors – GREG KOCH and STEVE WAGNER are mad passionate about great beer. As the co-founders of Stone Brewing Co., they've become recognized leaders in the craft brewing industry.
Greg is also co-author of the recently published The Brewer's Apprentice: An Insider's Guide to the Art and Craft of Beer Brewing, Taught by the Masters. He is frequently called on to speak on topics ranging from craft beer to business to food to marketing, bringing a bold, entertaining, and often humorous approach along with his philosophy. Steve is the President of the California Small Brewers Association, and is currently writing an in-depth book on IPAs with Stone Brewmaster Mitch Steele that will be published in 2012.
A graduate of the California School of Culinary Arts and a BJCP Recognized Beer Judge, RANDY CLEMENS has written for Gourmet, Saveur, BeerAdvocate, Draft, Imbibe, Los Angeles, and Wine Enthusiast. He is also the author of The Sriracha Cookbook and is the Public Relations Coordinator at Stone Brewing Co.
Inside THE book
A behind the scenes look at the 15 years of Stone Brewing Co., straight from co-founders Greg Koch and Steve Wagner
An in-depth history of beer through the ages, revealing how four simple ingredients combine to make liquid magic
Pointers on properly storing and pouring craft beer, as well as a primer on pairing beer with food
Recipes from the award-winning Stone Brewing World Bistro & Gardens, including Garlic Cheddar and Stone Ruination IPA Soup, and the (in)famous Arrogant Bastard Ale Onion Rings
Never before released homebrew recipes including Stone Pale Ale, Stone Smoked Porter, Stone Old Guardian Barley Wine, and Stone 12th Anniversary Bitter Chocolate Oatmeal Stout
Book Release Event
Tuesday 9/27, 5pm
Stone Brewing World Bistro & Gardens (1999 Citracado Pkwy, Escondido, CA)
Co-authors Greg Koch, Steve Wagner, and Randy Clemens will be on hand to sign books. Bottles of the limited edition Quingenti Millilitre beers will also be available for sale to those who purchase the book:
2010 Old Guardian Barley Wine Aged in Bourbon Barrels
2010 Old Guardian BELGO Barley Wine Aged in Bourbon Barrels
2010 Old Guardian BELGO Barley Wine Aged in Wine Barrels
More info on the event and Quingenti Millilitre beers can be found at: http://www.stonebrew.com/calendar/default.asp?intEventsID=1783
Greg's "brilliant" book marketing scheme