Boneyard Beer & Lib Tech Brew Skunkape IRA
(Bend, OR)- Boneyard Beer teamed up with snowboarding company Lib Tech out of Washington to brew up Skunkape, a hop-forward India Red Ale crafted back in 2011. This beer stands for everything Boneyard loves: hops, flavor and wicked good snowboards.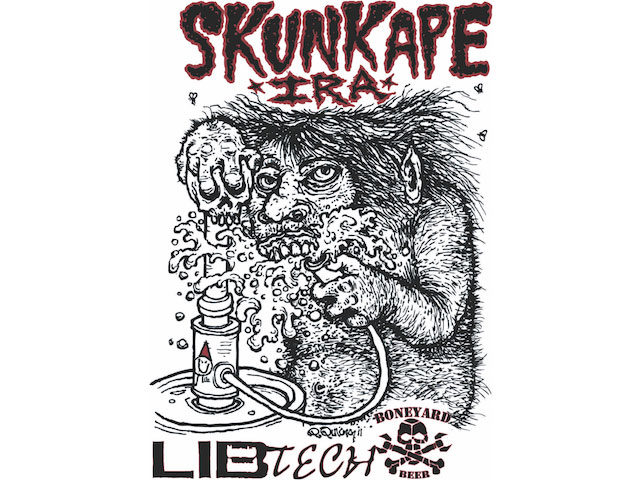 Skunkape transpired in 2011 when Brewmaster Tony Lawrence and Trevor and Kyle Phillips from Lib Tech teamed up to bring the craft beer and snowboard worlds together to create a powder-centric beer to quench any shredders thirst. "This project came about pretty serendipitously… just boys being boys talking about beers and snowboards." Trevor from Lib Tech states, "We've always been stoked with our relationship with Boneyard. It's nice to trade snowboards for kegs for our kegerator and we really felt like Quincy Quigg's artwork really fit in with Boneyard's graphics."
Skunkape has always been an experimental beer for Boneyard. Tony says, "At the time we were thinking up Skunkape, IRA's seemed to be a newer style and we thought we'd take a crack at making one. We have always had freedom to play with products like hop oils and extracts and used different applications with this beer to find something interesting that tasted good."
This dank, hop-forward India Red Ale will thrill any taste-buds from the beginner slopes to the cornice. Skunkape will be available starting January 1, 2017. 6% ABV, 40 IBU's and is available in 5.2g, 7.25g and 50L kegs. Boneyard's Skunkape will stick around until the snow melts.
About Boneyard Beer
In 2010, Boneyard Beer was started in an old auto shop tucked away in the backstreets of Bend, Oregon's historical district. Without any outside investors or major bank loans, Boneyard's inception was unconventional to say the least. After decades in the brewing industry, owner Tony Lawrence built up a "boneyard" of old equipment he collected from 13 different breweries around the country. Alongside co-founders, Clay and Melodee Storey, this second-hand brewing equipment was pieced together to brew the first batch of Boneyard Beer in May 2010. Boneyard currently distributes draft beer in the Pacific Northwest.
About Lib Tech
Innovations are something we actually do understand. Lib Tech is the collective energy of 30+ years of board building and riding. Each year our experiMENTAL Division handbuilds new shapes, flexes, contours, blends, constructions, incorporates new materials and works with our pros and doing hands on testing refining and fine tuning our snowboards.