Bear Republic Opens New Brewpub in Rohnert Park
(SONOMA COUNTY, CA) — Bear Republic Brewing Company, a Sonoma County, California based brewery operation, officially opened the doors to their newest brewpub location in Rohnert Park, CA on Thursday, September 14.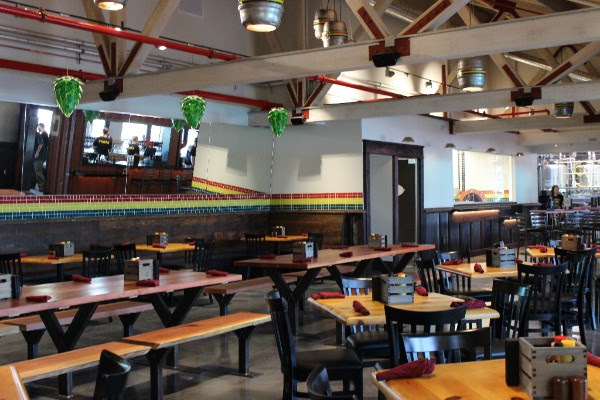 Located at 5000 Roberts Lake Road in Rohnert Park, Bear Republic Brewing Company Lakeside offers great craft beers and delicious pub fare with a twist. The Rohnert Park location includes a 10-barrel brewing system, a full bar that offers house and beer cocktails, a stage, a kids play area, and an adult games area with games such as shuffleboard, jenga, cornhole, connect four, and foosball.
A large outdoor dining area overlooks a lake flanked by palm trees. The kitchen is serving pizzas, along with many Bear Republic classic dishes.
"Bear Republic is very happy to be in the City of Rohnert Park and looks forward to continuing its relationship with the Chamber of Commerce, the City Fathers, the local business community, and the citizens of Rohnert Park," said Bear Republic Brewing Co. President & CEO Richard R. Norgrove.
Established over twenty years ago, Bear Republic has expanded into distribution markets all over the country, along with two brewpub locations, a production brewery, and shipping warehouse. Originally operating on a small brewpub system in downtown Healdsburg, California, the company has become the 40th largest craft brewery in the United States and employs over 270 people.
"The City of Rohnert Park and our residents are thrilled to have Bear Republic in town. It is just the kind of local restaurant and brewery we've wanted, filling our hole on the 101 Brewery Highway. And we know that the Norgroves are strong contributors to the local community; we're already seeing that with their generous donation of beer for Spreckel's Performing Arts Center performances," said Rohnert Park Mayor Jake Mackenzie.
Bear Republic Brewing Company is one of the largest independent craft breweries in Northern California. With a constantly growing portfolio of craft beers, Bear Republic maintains a sense of loyalty and tradition from eras gone by.
The Norgrove family has been a part of Sonoma County for five generations and is very excited to be a part of Rohnert Park.
#BEARREPUBLIC #BRBCLAKESIDE #CRAFTBEER #SONOMACOUNTYALES #HONESTALES #INDEPENDENTFAMILYBREWERS
Founded in 1995, we are a family-owned brewery located in the heart of Sonoma County, California. Founded by third and fourth generation Sonoma County residents, we pride ourselves on heritage. Our love for quality craft beers grew us into the family-owned and team oriented business we are today. Our brewpubs are located in Sonoma County's Healdsburg and Rohnert Park, California. The brewpub hopes to create an atmosphere that locals can call their own and makes visitors feel at home.
For more information on Bear Republic Brewing Company®, please visit BearRepublic.com or our social media sites: Facebook, Twitter, Google+, Instagram, and The Bear Blog.