Bear Republic Brewing Launches The Legacy Series
(Sonoma County, CA) – Brewing handcrafted beers for over twenty years, Bear Republic Brewing Company has announced the launch of their Legacy Series, a catalog of craft beers that have helped define the brewery's legacy.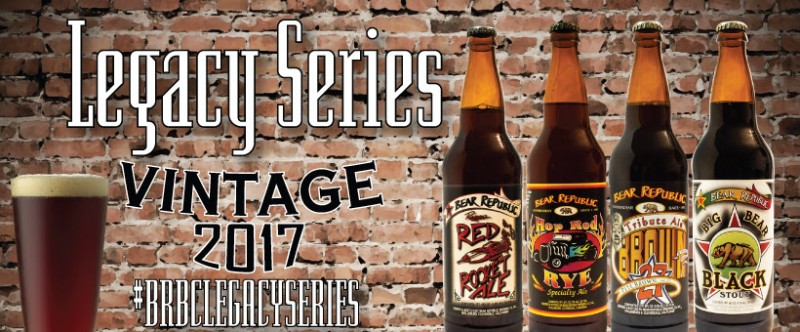 Master Brewer Peter Kruger stated, "While our team is constantly creating new recipes, the Legacy Series is a testament to the success of the great classic Bear Republic beers that have been a part of our portfolio for over twenty years."
The Legacy Series is a rotating cycle of four Bear Republic staples, available seasonally in 22 oz. bottles and on draft.
Red Rocket Ale® – April-June
A bastardized Scottish style red ale that traces its origins to our homebrew roots. This full bodied and hoppy brew finishes on the palate with sweet, caramel malt flavors. The complex malt bill mixes distinctive pale, caramel, and roasted malts with aromatic Cascade and Centennial hops.
Red Rocket is the brew that started it all. An example of Bear Republic's hop forward approach without fear of stepping outside the style guidelines, this was the Brewmaster's original quest for brewing excellence with no boundaries. This is a beer with many stories to tell.
Pair With: Rich Dishes, Gouda, Beef, Pork, Wild Game
Stats: ABV: 6.8% – IBUs: 67 – Color: Deep Copper Red – American Amber Ale
Notable Awards: Great American Beer Festival® Silver – Other Strong Ales: 1998, 1999; World Beer Cup Bronze: 1998; Seven awards from the California State Fair: 1998-2012
Hop Rod Rye™ – July-September
A high gravity IPA brewed with 18% rye malt. Hop Rod Rye has a floral hop aroma and subtle caramel notes with a slightly earthy and spicy rye character.
Pair With: Smoked Meats, Chili, Gumbo, Soft Cheeses, Beef, Pork, Wild Game
Stats: ABV: 8.0% – IBUs: 80 – Color: Amber – Rye IPA
Notable Awards: Six awards from the California State Fair: 2006-2014
Peter Brown Tribute Ale™ – October-December
A malty American Brown Ale brewed with molasses, brown sugar, and hopped with Cascade and Centennial. It's just the way Pete would have wanted it.
Pair With: Sweet and Savory Dishes, Blue Cheese, Beef, Pork
Stats: ABV: 6.3% – IBUs: 21 – Color: Brown – American Brown Ale
Notable Awards: Great American Beer Festival® Gold, Silver, Bronze – Brown Porter: 2004, 2006, 2012, 2015; Three awards from the California State Fair: 2007-2012; San Diego International Beer Competition, Bronze: 2016
#BEARREPUBLIC   #BRBCLEGACYSERIES #CRAFTBEER   #SONOMACOUNTYALES   #HONESTALES   #INDEPENDENTFAMILYBREWERS
Founded in 1995, we are a family-owned brewery located in the heart of Sonoma County, California. Founded by third and fourth generation Sonoma County residents, we pride ourselves on heritage. Our love for quality craft beers grew us into the family-owned and team-oriented business we are today. Our brewpub is located in historic Healdsburg, California, where cultivation, art, and creativity have thrived for centuries. The brewpub hopes to create an atmosphere that locals can call their own and makes visitors feel at home.
Sonoma County Ales®
Independent Family Brewers