Beachwood Brewing Releases System of a Stout Bottles May 24, 2013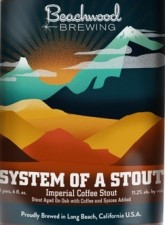 (Long Beach, CA)– Beachwood Brewing is set to release System Of A Stout, an Imperial Armenian Coffee Stout on May 24.
"System Of A Stout is far different than any other imperial stout I have brewed before," says Beachwood Brewmaster Julian Shrago. "This bold brew allowed us to take a step in a new direction, the flavor and aroma is immediately recognizable."
System Of A Stout is brewed with blackstrap molasses, green cardamom, and a custom Armenian coffee roast blend from Costa Mesa's Portola Coffee Lab®. This big imperial stout is also aged in Armenian brandy oak adding an additional dimension of complexity.
"The first time we brewed this beer it was in such limited quantities and on draft. We're very excited to be able to offer this beer again and look forward to reaching a larger audience with its bottled form", concludes Shrago.
System of the Stout is the second bottled beer collaboration between Beachwood Brewing and Portola Coffee Lab®. Beachwood Brewing's first bottled beer Tovarish Russian Imperial Espresso Stout was released in December 2012.
"What we shot for was the flavor essence of [unfiltered] Armenian coffee without the gritty mouth feel," says Portola Owner Jeff Duggan. "This objective led me to the selection of the two [direct trade Brazilian] coffees I chose to custom roast specifically for System Of A Stout."
System of a Stout will be sold in 22 oz. bottles at finer craft beer retailers across Los Angeles, Orange and San Diego counties. The stout will also be available on draft at both Beachwood BBQ locations.
SYSTEM OF A STOUT – IMPERIAL ARMENIAN COFFEE STOUT
Brewed & bottled by Beachwood Brewing, Long Beach, CA
11.2% ABV
Retail Price: $16/22oz bottle