Avery duganA IPA Returns This Week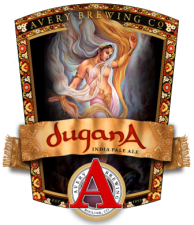 (Boulder, CO) – As fervent devotees of hops, years ago the brewers of the Avery Brewing Company embarked on a quest to create a transcendental IPA capable of quenching the most voracious lupulin desires. Since the first batch in 2009 the mantra remains "unity of bitterness, hop flavor and aroma." Enlightened, duganA IPA has flourished as brutally bitter, dank, piney and resinous ale designed for those seeking a divine hop experience.
duganA IPA (pronounced like llama) is released once a year and was designed to showcase the dank, piney and resinous notes of Chinook hops. This double IPA is dry and remarkably sessionable, especially for an 8.5% ABV and 93 IBU beer.
"Chinooks are my desert island hop," said Avery Director of Operations Steve Breezley.  "I have worked with Chinooks throughout my career, but years ago I attended a hop symposium that featured many single hop beers, one featured Chinook hops. It really opened my eyes. That's where I absolutely fell in love with Chinooks. When we came up with the idea for duganA I was excited to concentrate on this classic, piney hop."
The duganA release party starts at 5pm today, Wednesday August 21st,  at the Avery  Tap Room. duganA will hit the shelves and taps in select markets starting this week.
Established in 1993, Avery Brewing Company has developed a reputation as being one of the most daring and visionary breweries in the nation.  They are the brewers of Avery IPA, The Maharaja Imperial IPA, White Rascal Belgian Wheat Ale, Mephistopheles' Stout and eighteen other year-round and seasonal beers.  Please go to www.averybrewing.com for more information on Avery beers.