Avery Brewing Company Announces duganA IPA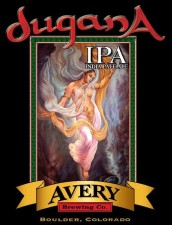 A truly transcendental hop experience
Boulder, Co – After two years of experimentation, numerous test batches and countless tasting sessions, Avery Brewing Company is proud to announce the release of their much anticipated duganA IPA. Brutally bitter, dank, piney and resinous, this 8.5% abv monster offers a mystical and divine hop experience with 93 IBUs of hop goodness.
In the summer of 2007, as fervent devotees of hops and preachers of the profound art of the IPA, we found ourselves in the pleasant dilemma of wanting an IPA to drink that was somewhere in between Avery IPA and The Maharaja Imperial IPA. Enlightened, a test batch commenced immediately, and our two-year quest to create a truly transcendental hop experience was born.
"duganA IPA stemmed from our need for a more sessionable version of The Maharaja Imperial IPA. We wanted to capture the huge hop flavor of Maharaja and package it in a form that could be drank with more regularity" said Adam Avery, President and Brewmaster of Avery Brewing. He added, "many in the beer community will say that the world doesn't need another IPA, but by putting our heads, palates and creative minds together, we were sure that we could make a very positive addition to our quiver of IPA's and build progressively on what is available in the market. I think we did just that with duganA. We're just beer lovers who can't stop ourselves from making new beers. Quest is a bit cliche, but yes, that's the only way to describe it: a maniacal quest for hop perfection."
For Avery Brewing, the quest comes to a most fruitful finally on Friday, October 2nd, when the first pints of duganA IPA will be served at a Release Party at the brewery in Boulder (more information at www.averybrewing.com) from 4-7 PM. Thereafter, 22oz. single bottles will be for sale in the state of Colorado and select markets across the country.
Established in 1993, Avery Brewing Company has developed a reputation as being one of the most daring and forward-looking breweries in the nation. They are the brewers of Avery IPA, The Maharaja Imperial IPA, White Rascal Belgian Wheat Ale, Mephistopheles' Stout and eighteen other year-round and seasonal beers.
Please go to www.averybrewing.com for more information on duganA IPA and other Avery brews.