Alaskan Winter Ale Returns for 2010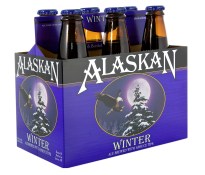 Greetings from Juneau, Alaska!
Our favorite wintertime seasonal has returned – Alaskan Winter Ale!
Inspired by the 18th century brewing practices of Captain Cook during his northwestern expeditions and brewed with Sitka spruce tips hand-picked from the small town of Gustavus, at the entrance to Glacier Bay National Park – Alaskan Winter Ale is the uniquely Alaskan way to celebrate the snowy season.
We brew with over a ton (literally!) of freshly-harvested Sitka spruce tips to create the unmistakable floral aroma and sweet spruce flavors found in our drinkable winter warmer. The full body and complex flavors also make Alaskan Winter Ale a perfect companion, or ingredient, to your holiday meals.
Style: English Olde Ale. Traditionally malty with the warming sensation of alcohol, olde ales are brewed in the fall and winter as winter warmers.
Specifications: ABV 6.4%, Bitterness: 27 IBU, Color: 17 SRM
Flavor Profile: Brewed in the style of an English Olde Ale, this copper-colored ale balances the sweet heady aroma of spruce tips with the clean crisp finish of noble hops. The malty richness is complemented by the warming sensation of alcohol.
History: From seafaring adventurers to the homebrewers of today, adding spruce tips to beer has a rich history in Southeast Alaska.
Recommendations: A perfect winter warmer or accompaniment to holiday fare. Serve with roast goose, turkey, lamb or as a nice complement to holiday breads, pound cake, or apple pie. Visit our online recipe database for a collection of Winter Ale recipes.
Packaging: Available throughout the western states in 15.5 and 5.17 gallon Sankey kegs and in the 12 oz 6-pks, 12pks and caseware, and  22 oz 12 pks.
The Story Behind the Label
Throughout Southeast Alaska, bald eagles can be spotted landing atop the towering old growth forests of Sitka spruce trees. As many as 3,000 bald eagles congregate among these evergreen trees on the shores of the Chilkat River for the last large run of salmon before winter. Sitka spruce trees carry a significance of their own to local Alaskans. The tender new growth of the spruce tips lends a delicious, yet subtly sweet floral aroma to teas, jelly and now our Alaskan Winter Ale.