Alaskan Brewing Black IPA Returns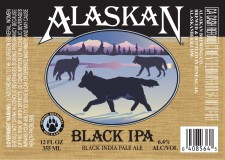 Alaskan Black IPA wolf packs have been spotted in the 14 western states where Alaskan beers are sold. Alaskan's spring seasonal release is a new beer experience created from a combination of traditional beer styles. Alaskan Black IPA has the appearance of a porter or stout but combines the roasted malty characters with the refreshing flavor and bright aroma of an American IPA.
The combination of big citrus and dark malt flavors make Alaskan Black IPA an outstanding pairing beer for dishes that combine sweet and savory. This includes everything from chocolate & ancho-chipotle rubbed pork, fried chicken and waffles or curried chocolate.
Use the Alaskan Brew Finder to find this new brew near you! Haven't tried our spring seasonal yet? You can expect the hop-forward profile of an IPA with the darker color and roasted flavors of a stout or porter. Watch the Alaskan Black IPA Beer Bio to learn more from the brewers behind the recipe.
www.alaskanbeer.com – facebook – @AlaskanBrewing