Alaksan Brewing Debuts Freeride APA Featuring Citra Hops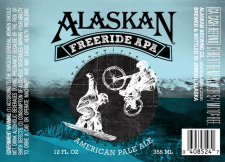 JUNEAU, Alaska (February 8, 2013) – Alaskan Brewing is releasing their first new, year-round bottled brew since 2009 with Alaskan Freeride APA. This floral, fruity and citrusy American Pale Ale features Citra, Centennial and Cascade hops in balance with a medium malt body.
"It was a long ride to perfecting this recipe," said Production Operations Manager Dave Wilson. "We had been experimenting with American Pale Ale recipes that we liked, but when the Citra hop variety showed up, it matched the malt profile in a way that made it both really refreshing and full of flavor."
First brewed on Alaskan's pilot system in 2010, Alaskan Freeride APA became a local favorite through Alaskan's Rough Draft series of draft experimental brews available in Alaska only. Alaskan then shared Freeride APA with select draft locations in the lower 48 via their Rough Draft Export series in the spring of 2012 to celebrate their role as the official beer of FLOW Tailgate Alaska and the annual World Freeride Festival held each year in Thompson Pass near Valdez, Alaska.
"Some of us on the brew crew spend a lot of our free time in Alaska's backcountry, skiing and snowboarding," said Alaskan Brewer Tyler Lindquist. "The APA grew out of our attempts at brewing the perfect après-ski beer, but it turned into basically a great après-anything beer."
Like all Alaskan Brewing labels, Alaskan Freeride APA features scenes from life in Alaska, including backcountry snowboarding near Juneau and snow-biking on a glacial lake. While previous Alaskan label art features vibrant illustrations of Alaska activities, this new package features photographs of Alaskans in action which directly connect the new brew to the people and places that inspired it.
Alaskan Freeride APA will be available on draft and in bottles in the 14 states where Alaskan beers are sold beginning in March. Fans can learn more about where to find Freeride APA and other Alaskan Brewing products by using the online Brewfinder at alaskanbeer.com.
___
About Alaskan Brewing Co.
Alaskan Brewing Co. has been making award-winning beer in the remote, coastal community of Juneau, Alaska, since 1986. The Alaskan Brew Crew bottles the unique character of the Last Frontier with historic recipes, local ingredients, and glacier-fed water. The pristine location of Alaskan beer has inspired the brewery to apply innovative thinking and a respect for the local environment to their growth, making Alaskan an industry leader in sustainability. Alaskan Brewing handcrafts Amber, White, IPA, Stout, Freeride APA, Winter Ale, Summer Ale, Spring Black IPA, the award-winning Smoked Porter, and an array of limited edition beers in the Alaskan Pilot Series. Visit www.alaskanbeer.com to learn more and connect with Alaskan at Facebook.com/AlaskanBrewingCo and @AlaskanBrewing on Twitter.