5 Craft Alternatives to Goose Island Bourbon County Stout
As most diehard beer enthusiasts drive around town from liquor store to liquor store looking for the coveted Goose Island Bourbon County Stout and variant blends, we'd like to open your eyes to 5 craft alternatives to this famous beer.
Make no mistake, Goose Island Bourbon County Stout is a world class, amazing beer, however some may want to support craft breweries, or want to opt out of supporting the gigantic Anheuser Busch/In-Bev corporation. Whatever the case may be, there are plenty of other tasty alternatives that fit the bill of a bourbon barrel aged high gravity stout. Please note that just like Goose Island Bourbon County Stout, these beers might not be available year round.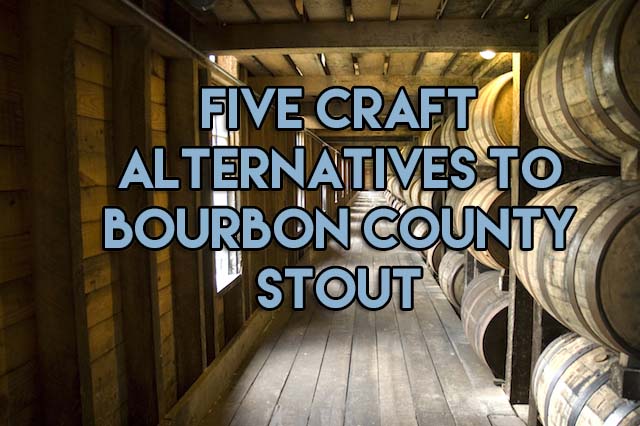 Hangar 24 Craft Brewery Pugachev's Cobra – Quite possibly Hangar 24's most popular beer, Pugachev's Cobra debuted in late 2011. It hovers around 15% and drinks very smooth. After my first sip, I proclaimed it to be as good if not better than Bourbon County Stout. Click here for the upcoming release details.
Bell's Blacknote Stout – This started as a brewery only exclusive that set Bell's locals world on fire. Years after this beer's reputation gained traction, Bell's did a small bottled run to huge fanfare. Many thought this would be a beer that had too much demand to obtain but then Bell's decided to put this beer into four packs and release it yearly. Perhaps less "boozy" than BCS and Pugachevs, this beer still delivers to those who love this style.
Firestone Walker Parabola – While many know Firestone Walker for their hoppy line of pale ales, they have ramped up their barrel program quite a bit over the years to where they are able to offer many delicious strong barrel aged beers. Parabola delivers yearly, and whether you drink it fresh or with some age on it, you will not be disappointed.
Deschutes The Abyss – This is a beer to look forward once a year. Much like the other beers named, it's a barrel aged imperial stout, however this beer is a blend of different spirit barrel aged imperial stouts and some years, a wine barrel gets thrown in the mix.  This used to be a pain to get, but production has increased to where it shouldn't be too hard to find.
North Coast Barrel Aged Old Rasputin – Here's another OG barrel aged imperial stout that should be pretty easy to find. While a bit pricey, this beer delivers every year.  If you are familiar with North Coast Old Rasputin, you know it is very roasty and has a bit of an edge to it. After a nice slumber in bourbon barrels, this sharp beer mellows into the perfect dessert beer. Many finer beer bars put this on tap, so whether you clunk down for the bottle or not, make sure to try this classic.