4 Hands / Bale Breaker / Stone Sorry Not Sorry IPA Debuts Today
(ESCONDIDO, CA)  – Stone Brewing Co. is sorry for providing yet another IPA…but not really. The craft beer company is only guilty of one thing: Being an unapologetic band of hopheads eternally psyched to continue exploring the ever-expanding possibilities of India pale ales. For its latest collaborative beer, Stone teamed up with 4 Hands Brewing Co. and Bale Breaker Brewing Company—two rising stars of American craft brewing—to create 4 Hands / Bale Breaker / Stone Sorry Not Sorry IPA. This imperial IPA brewed with experimental hops and peaches will start arriving today in 22-ounce bottles and on draft at retailers, restaurants and bars where Stone beer is sold.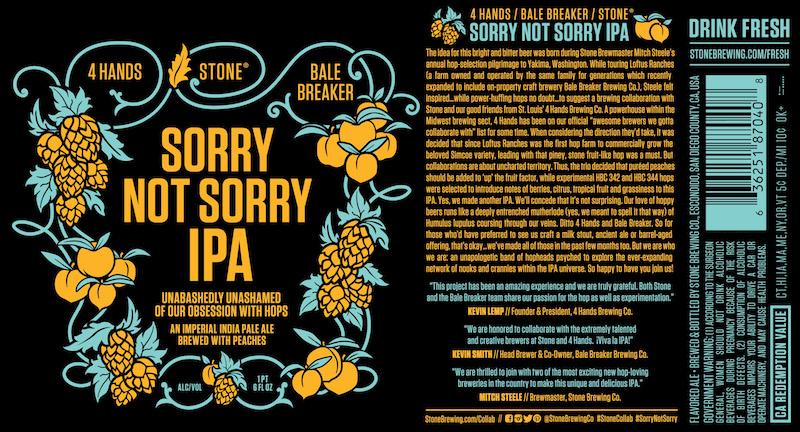 The concept of this IPA started forming after Stone Brewmaster Mitch Steele was encouraged by Team Stone members to visit and sample beers from 4 Hands. Steele was impressed with their lineup, and the St. Louis-based beer company was added to Stone's "awesome breweries to collaborate with" list. During last year's hop selection in Yakima, WA, Stone Lead Brewer Jeremy Moynier and Steele stopped by Bale Breaker, a craft brewery that had recently opened on the storied B.T. Loftus Ranches hop farm. While enjoying a few heavily hopped IPAs, Moynier and Steele knew this would be the perfect addition to the admittedly hop-obsessed trio.
"The family operating B.T. Loftus Ranches and Bale Breaker has been growing hops since 1932, so there's no doubt they are hop fanatics like us here at Stone," explains Steele. "Plus, 4 Hands Brewing Co. has made some amazing beers that use unconventional brewing ingredients to accentuate the qualities of hops. This beer truly reflects the skills of three brilliant IPA brewers."
When brainstorming recipe ideas, it was decided that Simcoe and Mosaic hops were a must, especially since B.T. Loftus Ranches was the first hop farm to commercially grow the beloved Simcoe varietal. But the goal of Stone Collaborations is about exploring uncharted territory. Thus, the trio decided that puréed peaches should be added to up the fruit factor, while experimental hops HBC 342 and HBC 344 were selected to provide notes of pine, berries, citrus and stone fruit. Thanks to Munich malt used for the grain bill, the beer has a golden, light-brown appearance and a slightly sweet finish, which perfectly balances the smooth hop bitterness.
To experience these newly cultivated hops and in all their glory, fans should enjoy 4 Hands / Bale Breaker / Stone Sorry Not Sorry IPA fresh and within 90 days after "bottled on" date on the bottle neck. This beer is a magnificent example of what happens when talented brewers band together to explore new hoppy territory for the IPA. After all, who says the world needs another IPA? We do!
Quick Facts
4 Hands / Bale Breaker / Stone Sorry Not Sorry IPA
Name: 4 Hands / Bale Breaker / Stone Sorry Not Sorry IPA
URL: stonebrewing.com/collab/sorrynotsorry
Stats: 9.3% ABV, 70 IBUs
Availability: Limited 22-ounce bottles and draft, beginning November 9
Hops Bill: Warrior, Simcoe, Mosaic, HBC 342 and HBC 344
National Distribution: AK, AL, AZ, CA, CO, CT, DC, DE, FL, GA, HI, IA, ID, IL, IN, KS, KY, LA, MA, MD, ME, MI, MN, MO, MT, NC, NE, NH, NJ, NM, NV, NY, OH, OR, PA, RI, SC, TN, TX, VA, VT, WA and Puerto Rico
International Distribution: Australia; Alberta and British Columbia, Canada; Japan; Singapore; Korea; Sweden; and United Kingdom
Find Beer: find.stonebrewing.com
About Stone Brewing Co.
Founded by Greg Koch and Steve Wagner in 1996, San Diego-based Stone Brewing Co. is the 9th largest craft brewer in the United States. Stone has been listed on the Inc. 500 | 5000 Fastest Growing Private Companies list 11 times, and has been called the "All-time Top Brewery on Planet Earth" by BeerAdvocate magazine twice. The multifaceted company will be the first American craft brewer to own and operate its own brewery in Europe, and is also building a production brewery and destination restaurant in Richmond, Virginia. Brewing at both locations is anticipated to begin in early 2016. Known for its bold, flavorful and largely hop-centric beers, Stone has earned a reputation for brewing outstanding, unique beers while maintaining an unwavering commitment to sustainability, business ethics, philanthropy and the art of brewing. For more information on Stone Brewing Co., please visit stonebrewing.com or the company's social media sites: Facebook, Google+, Instagram, Pinterest, Twitter and The Stone Blog.