2012 Stone Old Guardian Barley Wine Is Almost Here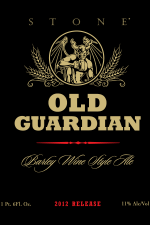 2012 Stone Old Guardian Barley Wine release date is February 13th
Escondido, CA – The big, malty, and fiercely hoppy Stone Old Guardian Barley Wine is making its highly anticipated annual return, rolling out to better beer bars and retail locations beginning on Monday, February 13th.
Each year, the recipe is tweaked ever so slightly, to allow the brewers to play with different malt and hop varieties. "For 2012, we made a deliberate effort to move away from the English hop influence of the past few years," explains Brewmaster Mitch Steele. "We took out the East Kent Golding hops and used a blend of American Chinook, Calypso and Cascade, which gave strong hints of grapefruit and pine to the aroma and flavor."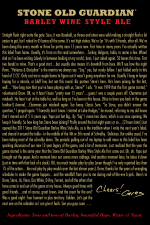 Guests to the Stone Brewing World Bistro & Gardens will get to try it a day early at the Stone Old Guardian Barley Wine Vintage Celebration. On Sunday, February 12th, beginning at 11am, this year's release along with 12 previous vintages will be available to taste, including the very last case of the 1999 batch. The Stone Company Store will also be featuring special rare bottle and growler fill sales of old Old Guardian. Properly cellared, of course. (Details & full beer list)
Stone Old Guardian Barley Wine (stonebrew.com/og/)
Stats: 11% abv, 85 IBUs
Availability: Limited 22oz bottles & draft, beginning February 13th
Malt bill: Pale Malt, Maris Otter Crystal Malt
Hops bill: Warrior for bittering, Chinook, Calypso, and Cascade for aroma and flavor
Distribution: AK, AZ, CA, CO, CT, DE, FL, GA, ID, IL, IN, KY, LA, MA, MD, ME, MI, MN, MO, MT, NC, NH, NJ, NM, NV, NY, OH, OR, PA, RI, SC, TN, TX, VA, VT, WA

Tasting notes, provided by Brewmaster Mitch Steele
Appearance: Deep amber, with a slight haze and a creamy tan head.
Aroma: A blend of bready yeast esters, toffee malt flavors and citrusy hops. Allowing the beer to warm to ~50°-55°F really allows the malt and hop character to come through.
Taste: Flavor is rich and malty, with a pronounced yeasty ester profile and tropical fruit hop flavors. Rich and smooth up front, at mid-palate the beer transitions to a pleasant dryness and lingering hop bitterness on the finish.
Overall: We make small adjustments to the recipe every year, just a little bit…as it provides an opportunity to try some different hops or malts. For the 2012 release, we used a blend of American Chinook, Calypso and Cascade hops, which marked the first use of Cascade in one of our special release beers. We also bumped up the Maris Otter crystal malt by a mere 0.5%, and it's amazing how much of a difference it made in the color and the upfront body. All in all, it's resulted in a well-rounded beer that is ready to drink now, or can be aged at cellar temperatures for many years. (If you can wait that long.)
Suggested pairings, provided by "Dr." Bill Sysak
Main Course: Beef carbonnade, braised lamb and wild game, cassoulet, portobello burgers
Dessert: Apple pie, pecan shortbread, sticky toffee pudding, Fig Newtons
Cheeses: Aged English Cheddar, Stilton, Gorgonzola
Cigars: Dunhill Signed Range Toro, Don Pepín Garcia Lancero, Illusione #888 Churchill
www.stonebrew.com – @StoneBrewingCo – Facebook