10 Barrel Brewing Co. Will Open Brewpub in Portland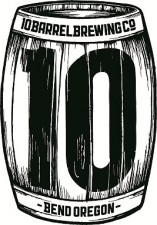 (Portland,OR) – 10 Barrel Brewing Co. will be opening a brewpub in the Pearl District in Portland. At this stage, they are hoping to have their NW 14th Ave & Flanders St location open in mid-Summer 2014. With a pub and brew house on-site the focus will remain the same as it always has been for 10 Barrel… brew beer, drink beer and have fun doing it.
10 Barrel partner Garrett Wales says "A new brewpub means more opportunities to put out small batch and one-off beers. The challenge of opening in Portland, one of the most innovative and educated brewing communities in the country isn't lost on us… we know expectations are high and we're excited to get after it."
Keep an eye out on their website and facebook page (fb.com/10barrelbrewingcompany) for more information on job openings and progress as works start on the site in the coming weeks.