Rogue Spirits Spruce Gin Wins Double Gold
Rogue Spirits Spruce Gin was awarded a Double Gold medal by the San Francisco World Spirits Competition. Rogue Spirits Dark Rum and Pink Gin both won Silver medals, and Wasabe Ginger Vodka won a Bronze medal.
The San Francisco World Spirits Competition is the first comprehensive, international spirits judging ever held in the United States on an annual basis. Founded in 2000 by Anthony Dias Blue, the Wine and Spirits editor of Bon Appetit Magazine and Carol Seibert, the Managing Director of the San Francisco International Wine Competition.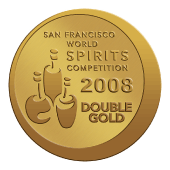 There were over 700 spirits entered from 52 countries, making it the largest spirits competition in America.
Since its establishment in 2003, Rogue Spirits has created unique distillates from local ingredients, and has garnered over 25 national and international awards for quality and excellence.

Other gins recognized include Beefeeter, Plymouth, Hendricks, and Tanqueray.
Rogue Spirits Spruce Gin is made with 14 ingredients: spruce, cucumbers, angelica root, orange peel, coriander, lemon peel, ginger, orris root, grains of paradise, tangerine, juniper berries, yeast, corn and free range coastal water.
Rogue Spirits Pink Gin is Rogue Spruce Gin aged in Oregon Pinot Noir barrels for six months to provide a fruity, mellow flavor and its distinct pink color.
Rogue Spirits Wasabi Ginger Vodka is made with 5 ingredients: Oregon wasabi, whole fresh ginger root, grain spirit, champagne yeast and free range coastal water.
Rogue Spirits Dark is made from pure Hawaiian Cane Sugar, Champagne Yeast and Free Range Coastal Water. Each batch of rum is double-distilled, hand-filtered through charcoal and aged in fire-charred whiskey barrels from the Jack Daniel's Distillery in Tennessee.
Established in 2003, Rogue Spirits creates award winning multi-ingredient small batch spirits, artisan distilled in traditional hand-crafted copper pot stills. No chemicals, additives or preservatives are used. Visit www.roguespirits.com for more information.