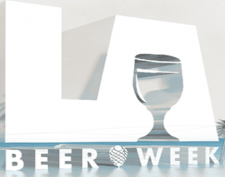 Los Angeles, CA – TheFullPint.com, the premiere source of craft beer news, beer reviews and event information, is teaming up with 38 Degrees Alehouse and Grill to host an educational beer tasting to celebrate LA Beer Week 2010.  38 Degrees Alehouse is an amazing craft beer bar located on Main Street in Alhambra, and features many of the highly acclaimed local and national craft beers we talk about here on The Full Pint.
Not everyone is as hip to good beers as you are, so we want to take the opportunity to introduce 4 beers showcasing 4 different ingredients found in almost all beers.  This will help you distinguish what you do and don't like about a certain beer, will help you make choices when ordering craft beer, and will allow you to educate folks who have been too intimidated by the vast choices the world of craft beer has to offer.  We ask that you RSVP Yes to this event to show your support of TheFullPint.com, and if you can't make it, send your friends or family on down so they can learn a bit about good beer and make themselves at home at 38 Degrees Alehouse and Grill.
Event – What's In this Beer? Hosted by TheFullPint.com and 38 Degrees Alehouse and Grill.
When – Tuesday, October 12 6pm – 8pm
Description: Take a Journey with The Full Pint and 38 Degrees as we break down 4 beers with 4 different distinguishable ingredients found in nearly every beer. 4 Beer Flight + 1 Pint for $15.00 . Beers showcased: Malted Barley: Alesmith Weeheavy; Malted Wheat:  Aventinus; Yeast: Avec Les Bons Voeux; Hops: Firestone Union Jack
Contact and Location: 38 Degrees Alehouse and Grill 100 W. Main Street Alhambra, CA 91801 RSVP at 626-282.2038 Seats are limited.
Click here to download the official flyer for What's In This Beer?
Click here to visit 38 Degrees Alehouse and Grill's Website.