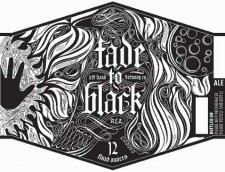 From Left Hand – Fade to Black. That time of year when the light fades away. In the fourth year of the renowned winter series, Left Hand introduces a Rocky Mountain Black Ale as Volume 4. Showcasing the duality of dry roasted malts and hop bitterness, Colorado Centennial hops take center stage of this pitch black ale.
Left Hand Brewing – Left Hand Fade To Black Vol. 4 Rocky Mountain Black Ale – 12 oz. bottle poured into a goblet. 6.5% abv.
Appearance:  Pours a midnight brown with a loose frothy cap of cream colored suds.
Aroma: Grapefruit and pine resiny hops. Not much roast at all. It's there, but very faint.
Taste: A nice hop profile of bitterness and citrus followed by a quick punch of spicy chocolate roast. Both the roast and hop bouquet fall off quick, leaving no lingering aftertaste.
Mouthfeel:  Medium bodied, a little juicy with moderate carbonation.
Overall: A very nice hoppy ale. Left Hand didn't call it a Black IPA, but of all the ones I've tried, this, in my mind, would be a black IPA. Lots of hops, mild roast.