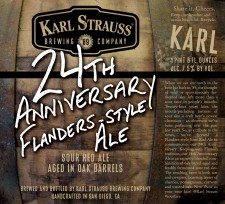 From Karl Strauss – The 24th Anniversary Flanders-style ale is part of the company's recently expanded barrel-aging program. "We've been experimenting with sour beers for a while and we thought it would be fun to barrel age a bigger version of our Flan-diddly-anders" says Segura. "The Flanders style is tart enough to make sour fans happy but still accessible enough for people who might not have tried a sour beer before. It was a fun beer to make." The 24th Anniversary Flanders-style ale follows the Flemish tradition of carefully combining both barrel-aged and freshly fermented sour beers to create the ultimate blend. The result is a complex sour ale with layers of tart cherry, pomegranate, currants and toasted oak. The beer finishes at 7.5% abv and nicely contrasts soft cheeses, grilled meats, and sweet glazes.
Karl Strauss Brewing – Karl Strauss 24th Anniversary Flanders-Style Ale – 22 oz. bottle poured into a goblet. 7.5% abv.
Appearance:  Pours a vibrant amber tinted bronze. No head and only a pin stripe around the top.
Aroma:  Blush wine, oak, vanilla, cork.
Taste: Big dusty oak, red wine vinegar, dry toasty malt. Finishes tart.
Mouthfeel:  Full bodied modest carbonation.
Overall:  I really enjoyed this beer.  I have sampled Karl Strauss' Flan-diddly-anders and other similar sours they've tried over the years, and was never impressed. If I was them, I would be very proud of this offering, and perhaps it was great that they piloted a red sour for a few years before bringing it to market.