Brooklyn Silver Anniversary Lager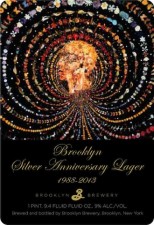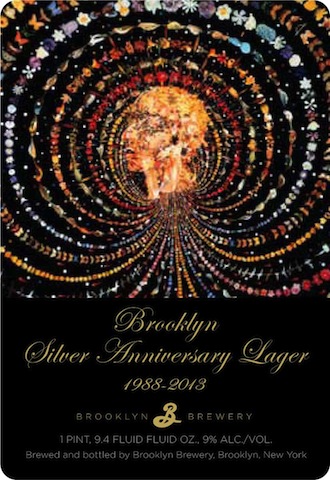 From Brooklyn Brewery – The Brooklyn Brewery is celebrating its 25th anniversary this year. We are fortunate to be a part of the incredible cultural renaissance Brooklyn has enjoyed during the last quarter century. Four great Brooklyn artists whom we met along the way—Fred Tomaselli, Roxy Paine, Joe Amhrein and Elizabeth Crawford—have created special labels for our Silver Anniversary Lager beer. We are saluting our beginnings with a special doppelbock version of the Brooklyn Lager we introduced in 1988. This beer is re-fermented in the bottle and will taste great today or years from now. The original was inspired by the beers of 19th Century New York and Vienna.
Brooklyn Brewery – Brooklyn Silver Anniversary Lager – 750 ml. bottle poured into a goblet. 8.6% abv.
Appearance:  Pours a dull hazy orange with a thin white film.
Aroma:  Herbal hops, husky pale malt. Fruity esters.
Taste:  Bitter Eurohops. Pale buscuit malt, toasty malt and  a touch of alcohol.
Mouthfeel: Full bodied. Average carbonation.
Overall:  One of the better "Imperial Lagers" I've had.  I'm hoping to track another bottle or two down to see how it develops. It was tasty, but didn't really remind me of the doppelbocks I'm used to.