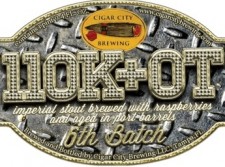 From Cigar City Brewing – 110K+OT is not for college pukes, white collar sissy boys or mamby-pamby Nancy boys who haven't done an honest days work in their lives. Nor is this beer for the common man. This beer is for the working man who has arrived. If your work boots are steel toed, come back when they are gold toed! Batch 6 – Imperial stout with raspberries and aged in Port wine barrels
Cigar City Brewing – Cigar City 110k + OT Batch 6 – On tap at the Denver Rare Beer Tasting. 11% abv.
Appearance:  Pours midnight brown with a thin creamy tan ring.
Aroma:  Chocolate, dark fruit, wet wood, soy.
Taste:  Raspberry, umami, dark chocolate raspberry truffle.
Mouthfeel:  Sticky,  full bodied, modest carbonation.
Overall: A delicious treat. Definitely a dessert sipper type of beer.