Smuttynose Rhye IPA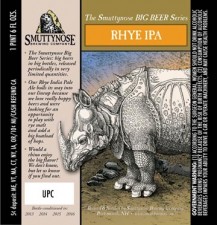 From Smuttynose Brewing – Our Rhye IPA bulls its way into our lineup because we love really hoppy beers and were looking for an opportunity to play with rye malt and add a boatload of hops. Would rhino enjoy the big flavor? We don't know, but let us know if you find out.
Smuttynose Brewing – Smuttynose Rhye IPA – 22 oz. bottle poured into a goblet. 6.8% abv.
Appearance: Pours a hazy amber orange with white film a top.
Aroma:  Apricot, tangerine spicy and sweet malt.
Taste: Starts off with medium hop bitterness, a fruity bouquet of citrus and stone fruit, very earthy spicy dry rye malt. Bitter finish. Very bold character.
Mouthfeel: Full bodied average carbonation.
Overall:  Although I found this to be a bit on the malty side, it's is a perfectly balanced, flavorful hoppy ale.