Q and A – Brendan Moylan of Moylan's and Marin Brewing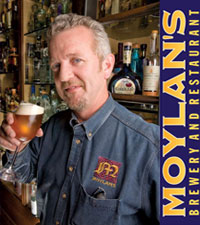 About three weeks ago, we caught up with Brendan Moylan for an Q and A session. Before we were ready to go to press, the big story broke about Lost Abbey/Port Brewing suing Moylan's over the use of a stylized Celtic cross tap handle. While we got a brief word about the matter at the end of the Q & A, you will not find any dirt or heated words about this matter. None the less, please enjoy. – The Full Pint.
The Full Pint – How is business going for you? You can find Moylans just about anywhere these days?
Brendan Moylan – Things are great! On that subject I'd like to give a special thanks to our crack sales manager,  Curtis Cassidy, he's doing a wonderful job of increasing Moylan's brand visibility.
TFP – Why do you suppose your Kilt Lifter is so popular amongst new and old craft beer drinkers a like?
BM – Plain and simple; it's a scotch ale with both balls!
TFP – What is your take on the current northern California craft scene, with some breweries being sold, some shutting down, etc?
BM – My take on the whole thing is that the weak are being gobbled up. Small businesses are working harder than ever to survive in this economy. It just ain't easy brother!
TFP – How is Marin doing compared to the Moylan's label?
BM – Marin does better with in-house sales than Moylan's so that means less left over for distributions. Thus, we only sell bottled Marin beer in CA and OR.  At Marin Brewing we use a London Ale yeast and when we make specialty beers we do Belgian styles. At Moylan's Brewing we use a Chico Ale yeast and when we make specialty beers we do German lager styles. We brewed 50 different styles of beer between the 2 Brewpubs every year.
TFP – Are there any beers you plan to add to either label, drop from either label?
BM – We just did a Bridal Ale for my wedding, a great mix between a golden and and amber ale. Also, we are hoping to bottle and sell the E.S. Chi, a new Chinese Tonic spiced beer we cooked up at Marin Brewing.
TFP – What trends in craft beer are you most intrigued by at the moment? Any you guys are about to try?
BM – I am intrigued by the increasing trend of using whiskey and other barrels to age super strong beers. I'm also keen on the idea of collaborations, for example, we worked with Jerry Garcia's former herbalist and acupuncturist Dr. Yen Wei Choong to design the E.S. Chi. Great ideas flowing!
TFP – What will Moylan's/Marin's involvement be in the GABF this year?
BM – I will be dragging 10 employees there again this year. Arne and Denise have sent some great beer. We will also be selling White Knuckle and Kilt Lifter t-shirts and some special Moylan's undies for all the ladies!
TFP – What advice would you give to any group trying to start up a craft brewery?
BM – It's pretty darn crowded right now. Start small in a pub and go from there. Also, you better have LOTS of capital.
TFP – Any plans for collaborations?
BM – The industry will see more collaborations between my two breweries, Marin Brewing Company and Moylan's Brewing Company. Also, look for some Bear Republic/Moylan's collaborations as well.
TFP – Where do you see Moylan's going in the next 5 years?
BM – To the moon!! In all seriousness Moylan's will remain a producer of mainly big beers for the marketplace and a variety of beers for the pub. We usually have about 16 to 20 different beers on tap at the pub.
TFP – What is your favorite Marin/Moylans beer?
BM – Moylan's Golden Ale, because I've got a f*&%ing ulcer. But the good news is that I can drink that beer all day long.
Asked September 11, 2010
TFP – Do you have a comment on the Port Brewing/Lost Abbey Lawsuit?
BM – Tomme has an application on file for the Celtic Cross Tap handle, I will be disputing it!