The Bruery Tasting Room – First Firkin Friday…And Its A Sour!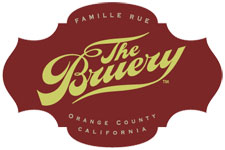 This month's First Firkin Friday is especially exciting. It brings back one of my favorite Bruery beers – Cuvee Jeune, our young lambic (now a little bit older) – and blends it with a special beer we made with Pinot Noir grapes. If anyone remembers White Zin, it's a similar concept so it should be a tasty tart beer with lots of depth from the addition of the grapes. We're calling it Melange #7.
And since we were feelin' sour, we decided to throw our World Beer Cup Gold Medal winner, Oude Tart, back on tap.
Also this weekend we are hosting a food truck that's new to us – Crepes Bonaparte! This French crepe truck is named Gaston, and it serves some of the most delicious sounding savory and sweet crepes. From dinner crepes like the Baby Bleu which includes chicken, bleu cheese, spinach and raspberry vinaigrette to dessert crepes like the HazelBerryAna with Nutella, there's surely something you can find to pair with almost any beer you try.
On Saturday, Barcelona on Wheels will be back. Make sure to try the strawberries with balsamic vinegar and black pepper for dessert – so good!
This weekend we're pouring:
Orchard White (available for growler fills)
Rugbrød (available for growler fills)
Saison Rue
Saison De Lente (Reserve Society growler fills)
Trade Winds Tripel
Mischief (available for growler fills)
Hottenroth Berliner Weisse (available for growler fills)
Humulus Rice (available for growler fills)
Humulus Lager
Humulus Gold (available for growler fills)
7 Grain Saison (available for growler fills)
Oude Tart (Limited)
On Cask:
Melange #7
Hope to see you there!
Cheers,
Stef & the other folks at The Bruery