Willimantic Brewing – "Birthday-Earthday" Party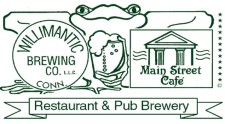 In honor of our birthday & Earth Day on Saturday, April 18th
That's right – we're turning 18! And like most 18 year olds, we want a PARTY!
Join us all day for earth-friendly food and drink specials, community events, the release of our Organic Anniversary Amber Ale, and the party really heats up in the Pub at 10:00 with live music by local favorites, Eleventh Section!
We are also celebrating the 100th anniversary of our beautiful Post Office building, so please come celebrate with us!
Willimantic Whitewater Partnership Hosts the National Paddling Film Festival "Road Show"
Mondays – March 9th, 16th and 23rd at 8:00 pm – New films each night!
Join other interested community members and paddlers to view these great films and raise money for the Partnership.
A suggested donation of $10 will help the Partnership continue it's work to develop the new paddling center in Willimantic.
St. Patrick's Day Party!
Tuesday March 17th
We will open at 11:30 AM and feature Irish food and drink specials, door prizes and lots of fun.
Celebrate the Irish in you at our party – all day & night!
For more info on these and other events visit: www.willibrew.com