Very Limited Tickets Still Available For Stone Sour Fest 2010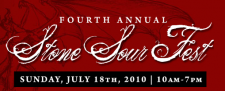 Stone World Bistro and Gardens is holding their fourth annual Sour Fest this coming Sunday. Dr. Bill has informed us there is a very limited amount of tickets left, and to act fast if you want to ensure your entrance. We also have heard that Lost Abbey's Tomme Arthur blended a special sour, never tasted before, just for this event. Oh yeah, pucker up!
From Stone –
The human palate is capable of detecting four basic flavors, but during a typical beer tasting only two of those (well, three if you count the pretzels) are experienced: bitter, sweet, and salty. Well, here at Stone, we feel it's high time to include the fourth flavor domain, SOUR, in the equation. "Dr." Bill Sysak is busily hunting down the best sour beers the world has to offer in order to bring you one of the biggest gatherings ever held featuring these special brews.
A $40 Sour Pass includes:
• A commemorative glass
• Fifteen 3-oz taster tickets (a few of the rarer beers will require two)
T-shirts available, too!
Stone Sour Fest t-shirts are available for purchase with your ticket. A men's Sour Pass/tee combo is $10 more, and a women's Sour Pass and tee is $12 more. This is a special pre-order price only: if we have any left by the day of the festival (and we may not!), they will cost $15/$17. Just make sure you know what size you wear, order the appropriate ticket, and pick up your shirt at the event! Deadline to pre-order is midnight on Sunday, June 27th.
Please note: It can get pretty warm here in July, but we will have plenty of chilled water on hand so you can leave your bottles at home. And you don't need to sit down in the Bistro to get sustenance during the festival–we'll have tasty edibles available outside for you to purchase anytime you like. If you prefer to dine with us at a table, we strongly recommend making a reservation ahead of time.
Tickets are $40 and are available here: http://www.brownpapertickets.com/event/95958
Click here for the entire tap and bottle list!