The 14th Annual California Brewers Festival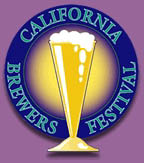 The California Brewers Festival hosts microbrewers from all over the US and abroad to share their handcrafted beers with more than 3,000 of our closest friends. Enjoy your favorite, award-winning hand crafted beers, savor local food from our favorite chefs, while listening to great live music.
What: Brewfest 2008
When: September 20, 2008 – 1pm to 5pm ( pouring ends at 4:45 )
Where: Discovery Park in Sacramento
The California Brewers Festival has for many years provided a fun and entertaining venue for brewers and beer lovers to share in the growing popularity of microbrew beers, while raising funds for children's charities in the greater Sacramento area. The event is organized and promoted by the Rotary Club of Point West-Sacramento. Point West Rotary is once again proud to designate the Assistance League of Sacramento as the primary beneficiary of the 2008 California Brewers Festival.
We also sponsor a professional beer judging/competition, featuring awards in 13 categories. It is conducted by the Gold Country Brewers Association whose judges are trained and certified through the Beer Judge Certification Program.

Advance Tickets are $25**, $30 on day of the event. Tickets for designated drivers and children between the age of 12 and 21 will be available for $5.00. Children under 12 are free.
** Note: Onlines tickets are charged a 2.50 convenience fee
How it works:
Ticket price includes 10 tokens. Each token entitles you to a 4 ounce beer sample. (2) Live bands will be playing in this beautiful partially covered tree shaded park. A great variety of excellent traditional, Mexican, and southern foods will be available along with a cigar vendor.
Note: extra drink tokens, food, and cigars are available at an additional cost.
Ample parking is available, Park and Rec charges standard rates per day use for vehicle entrance. Even better, the American River bike trail runs along side the festival perimeters, which provides easy access to the festival via bike from Arden Park, River Park, Campus Commons, Cal Expo, CSUS, Old Sacramento, and Downtown Sacramento. Free secure bicycle parking will be provided.
Click Here for a complete list of participating breweries.
Tickets are also available at the following Brew Pubs:
Brew It Up
801 14th Street, @ 14th & H
Sacramento, CA 95814
phone: 916-441-3000
Beerman's Brewery
645 5th Street
Lincoln, CA
Elk Grove Brewery and Restaurant
9085 Elk Grove Blvd
Elk Grove, CA
Sacramento Brewing Co.
Town and Country Village
2713 El Paseo Lane
Sacramento, CA
Or
Sac Brewing at Oasis
7811 Madison Ave
Citrus Heights, Ca
BJ's Restaurant & Brewhouse
2730 E. Bidwell St
Folsom, CA
Or
1200 E. Roseville Parkway
Roseville, CA
City Concierge
629 J Street
Sacramento, CA
Tickets are also available from the Point West Rotary.