Stone Brewing – Greg Koch To Appear at LA Beer Event on 3/15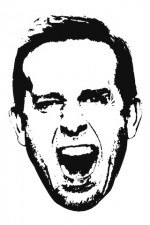 (ESCONDIDO, CA) – Greg Koch, CEO & Co-Founder of San Diego's Stone Brewing Co., is heading up to Venice Ale Houseto share a few pints with fellow craft beer fans on LA's Westside.Greg will be plenty ready to quench his thirst after delivering a talk at Google's Venice office as part of their [email protected] program. 10 Stone beers will be on tap that evening, including several special one-off brews and vintage selections.Thursday, March 15, 6-10pmVenice Ale House | 2 Rose Avenue, Venice | (310) 314-8253 | @VeniceAleHouseStone Brewing Co. beers on tap that evening:

·      Dry Hopped Arrogant Bastard Ale

·      Stone 15th Anniversary Escondidian Imperial Black IPA w/ Espresso Beans

·      2010 Stone Imperial Russian Stout

·      Stone Smoked Porter w/ Vanilla Beans

·      Stone Mixtape Ale – GK & LU's Blend Vol.1
This beer is a new blend that Greg put together with Stone's Small Batch Brewer, Laura Ulrich. It's a mixture of Stone Levitation Ale, Stone LeVariation Ale (a small batch of Stone Levitation Ale that was fermented with a Belgian yeast strain), Stone Sublimely Self-Righteous Ale, Stone Smoked Porter, Stone Cali-Belgique IPA, 2011 Stone Imperial Russian Stout and 2011 Stone BELGO Anise Imperial Russian Stout, with sage, hot peppers, lemon thyme, and Citra hops added.

·      Stone Ruination IPA

·      Arrogant Bastard Ale

·      Stone Smoked Porter

·      Stone Pale Ale

·      Stone IPA

(And not that you'd need another reason to come out, but the Venice Art Crawl is also taking place around town that night. Just sayin'…)

 

 

ABOUT STONE BREWING CO.

Stone Brewing Co. was founded in 1996 by Steve Wagner and Greg Koch in North County San Diego, CA. It is the 14th largest craft brewery in the United States and has been named "All-Time Top Brewery on Planet Earth" by BeerAdvocate magazine — TWICE! A recently announced $50M+ expansion plan (that includes a hotel among other lofty ventures) is underway, as are developments to become the first American craft brewery toopen a brewhouse in Europe. Visit stonebrew.com/press for more information.