Stone Brewing Co. CEO in North Carolina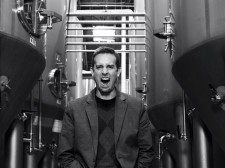 Greg Koch in Charlotte & Raleigh; Names NC bar "Most Arrogant Bar in America"
Escondido, CA – Greg Koch, CEO and co-founder of San Diego's famed Stone Brewing Co., is making a trip to Charlotte and Raleigh for two epic events March 23-24.
Greg will be celebrating the 3rd Annual Charlotte Craft Beer Week at Taco Mac (South Park) on Friday, March 23rd. Besides hanging out and having a good time, he's also bringing around 20 rare and vintage Stone beers with him, including several collaboration and special one-off brews.
From Charlotte, he'll be heading up to officially bestow upon The Raleigh Times Bar the distinct honor of being named "Most Arrogant Bar in America." Each year, Stone holds a weeklong nationwide competition to find the bar that can sell the most pints of Arrogant Bastard Ale, Double Bastard Ale, and OAKED Arrogant Bastard Ale. The Raleigh Times Bar took top honors in last October's bout, and Greg will now be presenting them with a most righteous plaque (which carries with it some pretty heavy bragging rights) and rolling out an impressive list of well-deserved treats for the evening, including a vertical tasting of 2005-2011 Double Bastard Ale vintages.
North Carolina has become the state to beat in the "Most Arrogant Bar" competition, now enjoying its third straight victory, with The Raleigh Times Bar following Charlotte hot spots Mac's Speed Shop and Tilted Kilt, which earned the title in 2010 and 2009, respectively.
Friday, March 23, 7pm
Taco Mac | 4625 Piedmont Row Dr, Building E, Suite 115, Charlotte | (704) 972-0503 Facebook | @TMacSouthPark
www.charlottecraftbeerweek.org – Facebook | @CharlotteBeerWk
Saturday, March 24, 2pm
The Raleigh Times Bar | 14 E. HargettSt., Raleigh | (919) 833-0999 Facebook | @RaleighTimesBar
Greg will also be signing copies of his book – The Craft of Stone Brewing Co.: Liquid Lore, Epic Recipes, and Unabashed Arrogance – which will be available for sale at The Raleigh Times Bar. The recently released literary tome recounts the company's 15 year history and shares 18 homebrew recipes for Stone beers, as well as recipes for some of the most popular dishes from their award-winning restaurant, the Stone Brewing World Bistro & Gardens.

ABOUT STONE BREWING CO.
Stone Brewing Co. was founded in 1996 by Steve Wagner and Greg Koch in North County San Diego, CA. It is the 14th largest craft brewery in the United States and has been named "All-Time Top Brewery on Planet Earth" by BeerAdvocate magazine -TWICE! A recently announced $50M+ expansion plan (that includes a hotel among other lofty ventures) is underway, as are developments to become the first American craft brewery to open a brewhouse in Europe.
www.stonebrew.com – Facebook – @StoneBrew